Size and Color Advisor
Help customers find the right style, size and colors
Size Advisor
Finding the right size without hassle. No costly data management needed.
Intelligent size advice
Reduced product returns
Takes body type and fashion style into account
The excentos Size Advisor recommends the perfectly fitting size. This way excentos prevents orders purely for selection purposes, wrong orders and therefore product returns. It also takes body type, wearing habits and fashion style into account.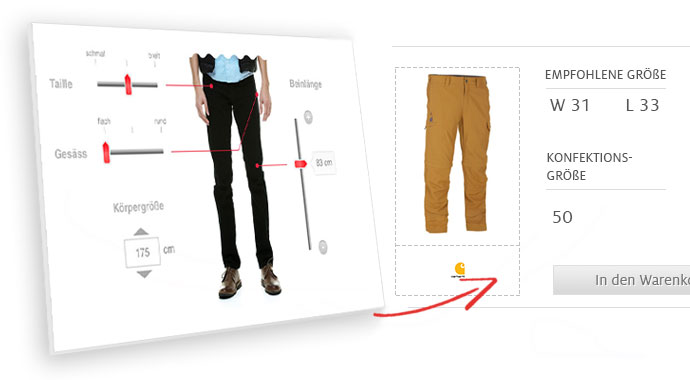 Color matching
Perfectly matching color recommendation without data management
Image analysis algorithms recognize colors of product images
The search behavior can be configurated quickly to react to trends
Data management is not necessary because product images are sufficient
excentos image analysis algorithm simplifies the color search - without any trouble about different color names, or inconvenient color searches and manual data management. The color matching analyzes the region of interest of every image. This way even the smallest shades of each color are registered and can be found by the search. The configurable recommendation behavior provides colors similar to each other and can handle several colors in one picture without problem.