Sports & Outdoor
Drive sustainable growth through personalization
Personalized guidance for both - beginners and outdoor enthusiasts
Addressing the various levels of your customers' experience, knowledge and needs can be tricky. A first time customer that wants to buy a sleeping bag for occasional camping trips has different expectations than a veteran who searches a new sleeping bag for his next mountain climbing expedition.

The key to provide every customer with perfectly matching recommendations is Digital Product Advice: Product Guides provide customer journeys modeled with your sales expert's knowledge that interactively engages each customer with a dynamic question flow. It allows you to tailor the questions to every user's experience and present relevant topics only - thus a beginner's advisor flow can be very different from expert advice for outdoor geeks.

Guided Selling provides your customers with digital advice and personalized experiences:

Intelligent Product Guides lead your customers to the right gear for their outdoor adventure or sports activity. At the same time, they increase your conversion and margins with great customer service and upselling.

Take advantage of our vast experience and explore the many features that make online selling of sports and outdoor products an enjoyable experience.
Dedicated features, e.g. finding the right size of the gear
Gear or clothing needs to fit perfectly - both in size and in product characteristics. But finding the right size can be complex - since it depends on many parameters. Digital Product Guides avoid frustrating experiences and order returns by asking questions that even the most inexperienced customer can answer.

Our Tent Guide, for example, asks the user for his body size and adventure or field of application. If you wish to go mountain climbing, the guide would recommend a smaller tent length since it would help you to save weight. But if you are planning a camping trip by car, saving weight would not be an issue.

But the Product Guide's intelligence goes way beyond this: It takes into account that the size indication of two different brands can diverge.

This has been proven particularly helpful for shoes, boots and bicycles, considering that many brands use different-sized dimensions (e.g. US, EU, UK size versus Mondo Points, but even throughout those sizes Adidas running shoes might come smaller than Nike running shoes).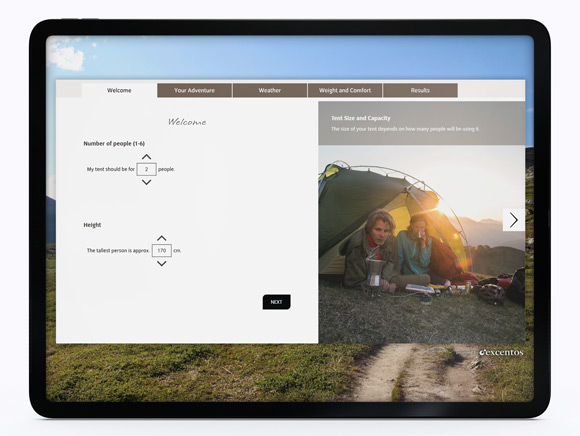 Explanation Content
Used to explain the relevance of the questions and answer options to the product.
Simple Questions
The Product Guide asks only questions that every customer can answer.
Calculation behind the scene
Both questions, about the amount of people and the body height, serve as basis for the calculation of the tent's size.
Decoration Image
Can be used to support the explanation content or to set the right mood for your customer's shopping experience.
Finding the right type of gear or cloth
There are thousands of products out there and often it's a real hassle to identify which product category or product type is the right one, if at all.

Ensure that your customers do not become frustrated, if e.g. they don't know whether hiking boots, hiking shoes or trekking boots are the right choice or if they should rather go for trail running or cross-training shoes instead.

Take out the hurdles and category silos that make the user journey complex, and instead use intelligent Product Guides that provide cross-category guidance.
Explore more features and examples for
Sports and Outdoor
Live examples of Product Guides
in the Outdoor and Sports industry
B2C Solution
Outdoor and sport
Vaude
Tent Guide
The Vaude Tent Guide is the ultimate advisor tool for online customers. It asks simple questions to understand the smallest of needs and keys in factors that the customer may not have thought of before. The guide provides explanations on complicated topics and allows users to compare the advantages of different tents.
Highlighted Features:
B2C Solution
Outdoor & Travel
Globetrotter
Backpack Guide
The Backpack Guide gives quick recommendations for customers with existing knowledge through a dedicated list of hiking trips. The detailed advisory path calculates different aspects of hiking trips along with the user's personal needs. Facetted search options allow users to further filter recommendations without altering the guide's recommendation behavior.
Highlighted Features:
Multiple use cases
Explanation content
B2C Solution
Outdoor & Travel
Globetrotter
Hiking Shoes Guide
This quick guide gives Globetrotters' customers the best recommendations in the shortest amount of time. Within a few steps, customers get a good idea of the kind of shoe they are looking for as the guide provides explanation content where necessary. The guide also uses reasoning texts for shoe recommendations to reaffirm selection factors.
Highlighted Features:
Reasoning texts
Explanation content
VAUDE Tent Guide
Globetrotter Backpack Guide
Globetrotter Hiking Shoes
Contact us for an online demo
and build your first Product Finder
with the excentos Workbench
Yes, I want a free Workbench account.
Start building your first Product Guide.
Just let us know a few things to set up your account.