Power up the online journey
Build your digital presence with Guided Selling
When it comes to complex products such as power tools, customers have different types of queries. There are a healthy variety of use cases because product knowledge and experience levels change from one use case to another. With questions regarding installations to replacements and spare parts, customers need advice at multiple touchpoints during their journey.

Digital advice simplifies product complexities and addresses different customer queries with one integrated solution. It also brings different product categories and related topics under one umbrella.
Guided Selling is the best way to digitalize your product expertise. With Guided Selling solutions such as Product Finders, you can create multiple product journeys to address different customer groups and use cases.

Such solutions offer the flexibility to design an experience that follows your sales strategy. Using conversational dialogues increases the likelihood of online purchases and retains customers as they make an informed decision.
---
Digitalize your expertise with a Product Finder
Customers with little knowledge are often unaware of recommended options or methods for their use cases. With a Product Finder, you can highlight preferred options and pre-select them for the customer. First-time users and beginners don't have to worry about making the wrong decision and are matched only with the best-suited products.

You can additionally help customers by adding explanation texts to inform them about important details or topics, for example, to provide more information about material sourcing or why a particular material is a more sustainable choice. You can integrate tips and maintenance advice in this manner.
Products in this industry often have spare parts and accessories that may need replacements for optimal machine performance. Depending on the complexity of the product, customers naturally expect a process that addresses additional services, product maintenance, replacements, etc.

Product Selectors address multiple needs and queries. They help sell new products, related services, accessories, and parts. In this aspect, Product Selectors can include cross-selling, upselling, and lead generation functionalities depending on the product journey design.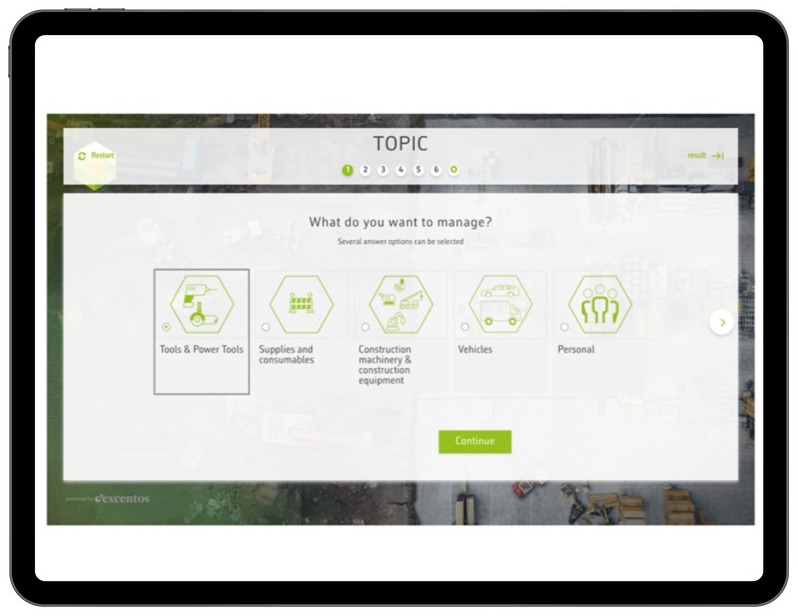 ---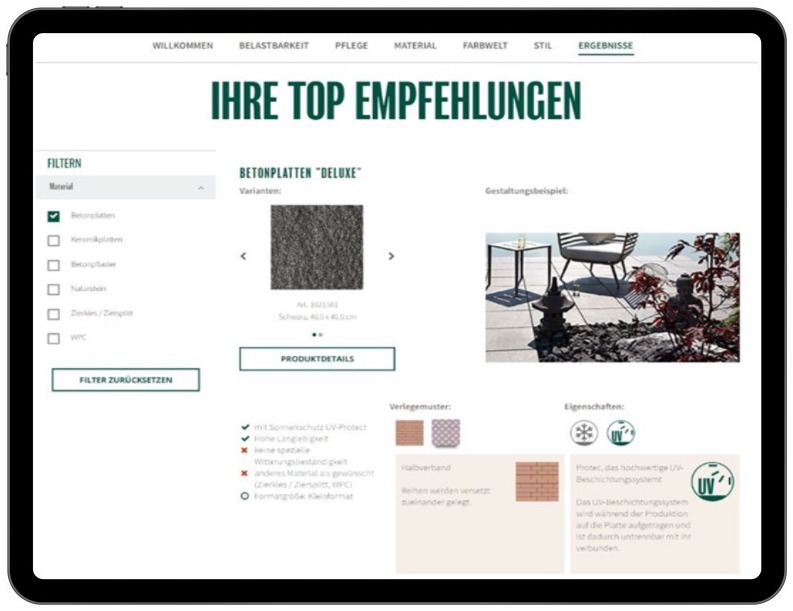 Online and instore digital assistance
It's a difficult task to manage large product inventories without the right kind of software solution. Furthermore, training new sales personnel requires a lot of time investment. As a result, instore customers must wait for services and help.

Digital instore assistants guide your instore sales personnel to assist customers better. They help new salespersons familiarize themselves with large product catalogs and can dynamically integrate any changes to the product lineup. They also ensure a standard of quality across multiple stores or branches. Product Finders are also easily adapted to new markets and languages. Additionally, self-service tablets directly help customers and reduce instore waiting times.
Product Finders are multi-functional by nature; hence you can integrate color matchers or size finders within the digital advisory process. Such tools help clarify expectations about product usage for individual use cases. They increase the likelihood of a quick purchase as customers can make a clear decision to purchase.

Product Finders are a perfect match for products that come with customizations or variations. For example, terrace tiles have different sizes, materials, colors, or patterns. Additionally, image algorithms can analyze colors and patterns from product images requiring no further configuration.
---
Explore more features and examples
for construction and home equipment
Live examples of Product Guides
in the construction and home equipment industry
Get your 30 days free trial now