Combine Guided Selling
and product configuration
Reduce complexity and help your customers to save time
Your products are complex and it is difficult for your customers to make quick and educated buying decisions? Your offering contains many innovative features that need explanation and a vast amount of product variants? Traditional navigations like category navigation or filter search clearly fail since they lack the necessary explanation.

Providing a product search that puts the user requirements first, instead of complex setting and technical features is quite a challenge.

Overcome complexity with our AI-based Guided Selling solution that brings your best sales reps knowledge right into your website. Product Guides offer a personalized customer journey that allows you to engage with each customer by asking only relevant questions. Turn a complex search into an enjoyable interactive experience that leads to a buying decision.
Guided Selling helps you building personalized experiences by providing digital advice:

AI-based Product Guides lead your customers to the right product for their needs. At the same time, they increase your conversion and margins with great customer service and upselling.

Explore our vast experience and many features that make online selling of Inndustry and Logistic products an enjoyable experience.
---
Combine configuration and digital advice
Make choosing the right settings and features easy. Our Guided Selling solutions translate tech specs into usage-based language. They provide your customers with configuration options but offer explanations and advice next to it, which significantly reduces choosing the wrong settings or features.

The advisor process finds out your customer's use case in an easy-to-use step by step wizard. The Product Guide's AI learns with each click which features and settings are most important for your users - and thus provides you with valuable data for market research and optimizing your product portfolio.
---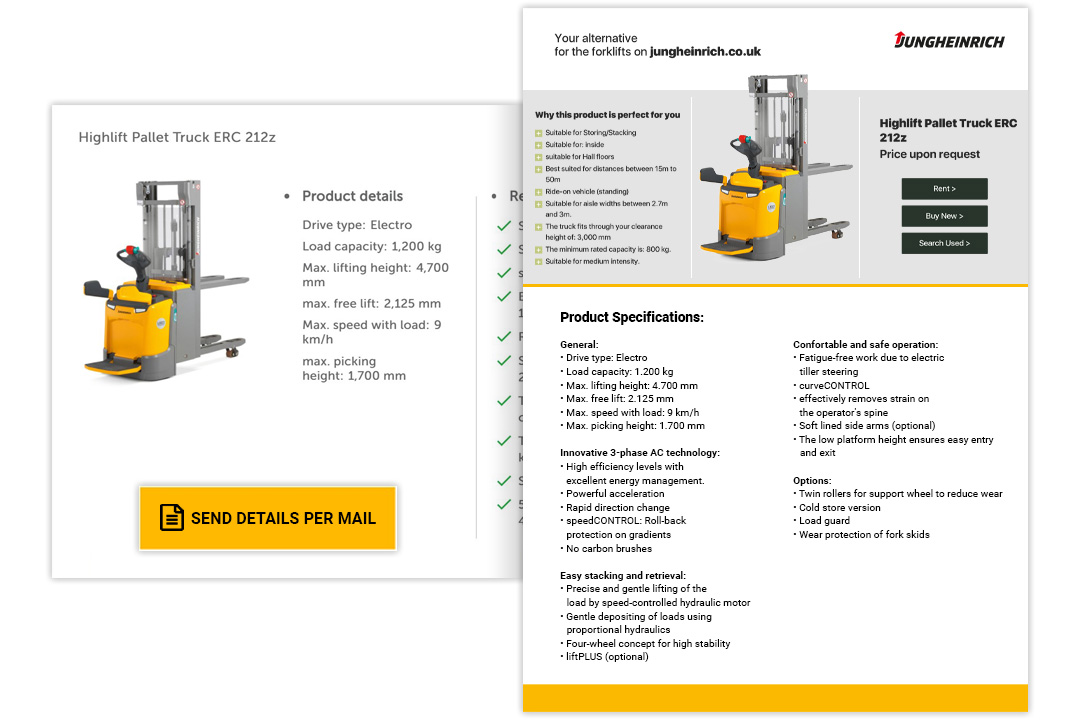 Automated Emails
Offer every customer to send them recommendations and all product details via email

Automated Emails

Offer every customer to send them recommendations and all product details via email


Provide your customers with PDFs that include all tech specs and backlinks to your website and shopping card
The ideal mix of lead generation and customer service
One Product Guide serves a wide variety of different target groups, no matter whether business manager or operations manager or engineers. The advisor process simply adjusts to the knowledge of the user providing an optimal user experience.
Turn long lists of tech specs to your advantage with our Guided Selling features for
lead generation
and
PDF generation
. Product Guides offer your customers the option to receive automated emails that include the product recommendation and a PDF fact sheet about all specs of the product. The email and PDF include backlinks to your website or shopping card, to ensure that your customers find their way back directly into the sales process.
---
Explore more features and examples
for Industry & Logistic
Sales rep. support
Digital advice at the point of sale
Product Guides are the ideal tool to support your Sales staff around the clock. They encompass your foremost sales expert knowledge and bring it to each sales rep. of your across your entire distribution network. At the same time, it reduces friction across all channels by incorporating your business and marketing strategy.

Keep your sales reps up to date with changes in the product assortment, pricing, available accessories and help your sales staff to increase sales revenue using cross-selling and upselling features.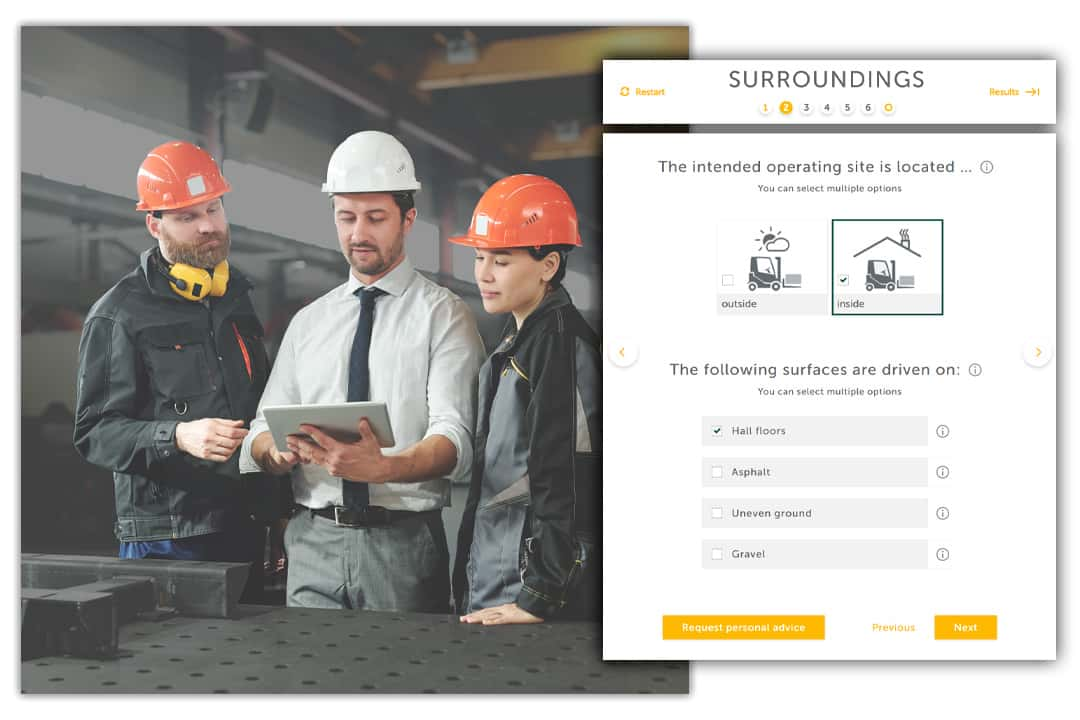 ---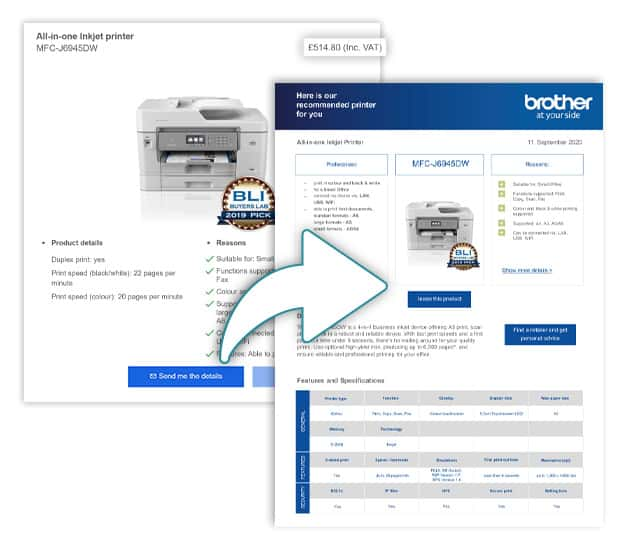 PDF generator
Product recommendations that stay with your customer
Increase your customer loyalty with personalized PDFs which include the ideal product recommendation and the entire reasoning that reminds your customers why this particular product fits their needs the best.

Use backlinks on the PDF to lead customers back to your website, your shop or directly into the shopping cart. The PDF generator's effectiveness is multiplied by combining it with the Lead Generator which sends the PDF attached to a personalized email to your customers.
Learn more
---
Lead generation
Stay in touch with automated and personalized emails
Offer your customers the option to receive their product recommendation via email and increase customer loyalty. Our Guided Selling solutions can combine these automated and personalized emails with automatically generated PDFs, which includes the before submitted customer profile and the advantages of your product.

The emails and PDFs contain backlinks to your website or to the Product Guide and remind your customers to continue their purchase.
Learn more
---