Data
You can build your Product Guide
on any existing data structure
The Basics
You only need one data feed in order to create a Product Guide: already existing standard data feed exports of your shop or CMS systems are enough. You can use the same data that is e.g. used for price comparison sites or affiliates, or that is contained in your PIM or ERP system.
File Format
The most common data format is CSV. Other data formats like XML can be used without a problem. If your data feed complies with the Workbench data feed requirements you can directly upload it. Otherwise excentos can support your data feed preparation.
Automatic Update
Your data is always up to date. You can decide in the Workbench how often the data is updated automatically, daily, hourly, or live - depending on your needs. New products are shown in the Product Guide automatically.
If you don't know the file format or how to prepare it for the Workbench, excentos can help you to prepare your data feed. Simply provide excentos with the data feed from your shop system or CMS and we will do the rest.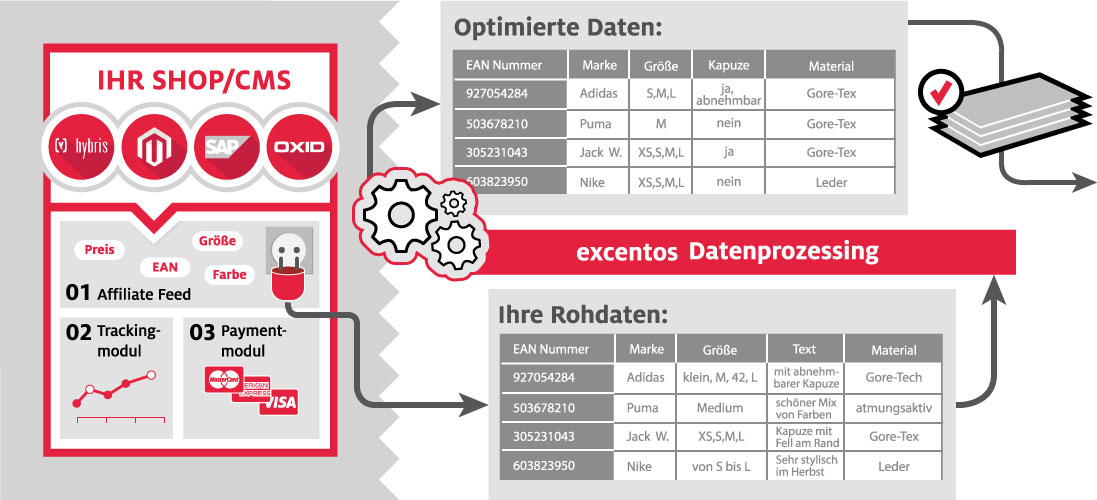 How to get the most out of your data?

How can excentos improve your data?
excentos developed powerful tools for data preparation and processing. Our AI-driven tools extract additional information from free text and unstructured data, for example from product descriptions, or they are used to extract additional information from your CMS, shop system or PIM. If you want even more data we can:
derive additional data from internal or external sources or from the web
include licensed data sources
Often data is hidden but available within existing structures. We can extract this data for you. So even if you do not have any data we can set up a data creation and maintenance process with you.
In the end, you can build your processes upon the improved and SEO-Optimized data feeds that excentos provides.
Can excentos handle product variants?
Yes. We can identify variants and assign, for example, color and size variants. In this way, we can intelligently handle product variants and recommendation behavior.
Can excentos integrate data from several different data feeds?
Yes. excentos can extract the relevant data for you from several different sources, for example, your shop / CMS system or from your PIM-system. A typical scenario is to pull the core product fact sheets from your PIM, but actual prices and availability data from a shop system or webservice.
Our process is extremely flexible and our extraction process can adjust to any data structure. All the data is immediately usable in the Product Guide, e.g. in the form of new attributes or an enlarged product assortment.
Do you have questions about your data?