06 June, 2022
Melissa Hartmann
Share post
Was ist Guided Selling?
06 June, 2022
Melissa Hartmann
Share post
Immer mehr B2B und B2C Unternehmen setzen auf Guided Selling, um ihre Kunden auch online optimal zu beraten. Doch was genau bedeutet Guided Selling eigentlich und wie funktioniert es?

Guided Selling beschreibt einen interaktiven Prozess, bei dem Kunden durch den Produktauswahlprozess begleitet und zu einer Kaufentscheidung geführt werden.
Begriffserklärung:
Der Begriff wird im Ecommerce verwendet und bedeutet übersetzt "geführtes Verkaufen".

Eigentlich wäre Guided Buying, also "geführter Einkauf", ein treffenderer Begriff. Schließlich werden Kunden, die online etwas kaufen möchten, durch ihren Einkauf geführt. Im deutschsprachigen Raum hat sich aber der Begriff Guided Selling durchgesetzt.

Darüber hinaus gibt es weitere Begriffe, die synonym zu Guided Selling verwendet werden, dazu zählen: digitale Kaufberatung, Online-Produktberatung und kuratiertes Einkaufen.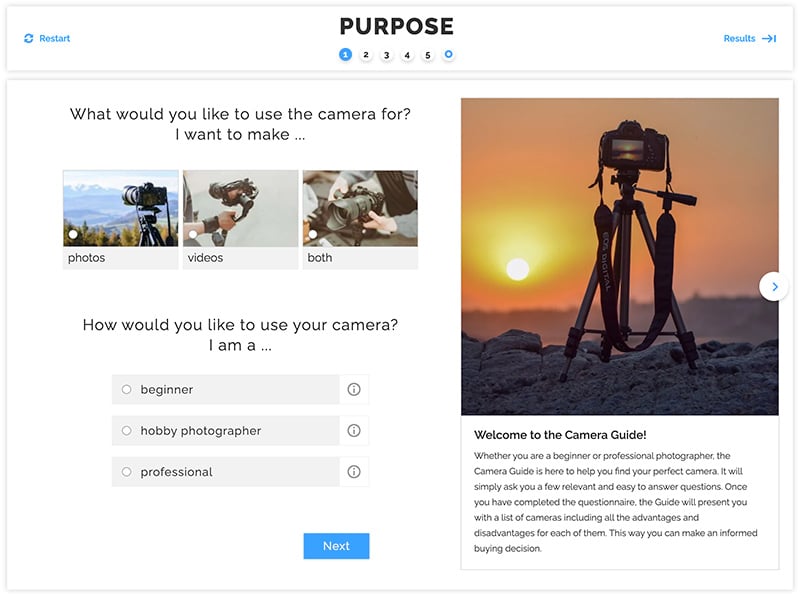 Mit dem Kamera-Berater finden Sie die perfekte Kamera.
TESTEN SIE UNSEREN KAMERA-BERATER
Wie funktioniert Guided Selling?
Guided Selling basiert auf KI-basierten Assistenzsystemen, die als digitaler Produktberater, Produktfinder oder Produktselektor bezeichnet werden. Kunden, die auf Ihre Website gelangen, können mit dem Produktberater interagieren. Der digitale Produktberater präsentiert Fragen, um die Bedürfnisse des Kunden zu ermitteln und passende Produkte zu empfehlen. Doch was ist daran jetzt so besonders?
---
"Kunden werden mit Guided Selling schnell und sicher zum Kauf geführt."
Stellen Sie sich folgendes Beispiel vor:
Ein potenzieller Kunde plant einen mehrtägigen Wanderurlaub und benötigt ein Zelt. Es ist sein erster Camping-Ausflug und er hat noch keine Erfahrung im Zelten. In einem Outdoor-Fachgeschäft wird der Kunde von einem Verkäufer ausführlich beraten und bekommt einige Zelte gezeigt, die für den geplanten Ausflug optimal geeignet sind. Der Verkäufer empfiehlt für die Bergtour ein Zelt, das ein geringes Gewicht hat und auch rauen Wetterbedingungen mühelos standhält. Der Kunde braucht nicht lange zu suchen und kann sich sicher sein, dass das Zelt seinen Anforderungen entspricht.

Sucht der Kunde hingegen online nach einem Zelt, wird er in der Regel nicht beraten und ist während des Produktauswahlprozesses auf sich alleine gestellt. Er muss auf Basis der Produktmerkmale und Beschreibungstexte eine Kaufentscheidung treffen. Und genau hier kommt Guided Selling ins Spiel: Der digitale Produktberater berät online genauso professionell wie der Fachverkäufer im Geschäft. Dadurch findet der Kunde schnell das perfekte Zelt und bleibt vor einem Fehlkauf bewahrt.
---
"Der digitale Produktberater berät Ihre Kunden genauso professionell wie ein Verkäufer im Fachgeschäft."
Kundenbedürfnisse verstehen
Der digitale Produktberater stellt spezifische Fragen, um herauszufinden, wonach der Kunde sucht.

Beispielsweise fragt der Zelt-Berater von Vaude, wie viele Personen im Zelt schlafen, welche Wetterbedingungen in der Zielregion zu erwarten sind und auf welchem Untergrund das Zelt aufgebaut werden soll.
Der Kunde beantwortet die Fragen und erhält Produktempfehlungen, die ideal auf seine Bedürfnisse abgestimmt sind.

Zusätzlich bietet der Produktfinder Erklärungen zu den Produkten und Produktmerkmalen, damit der Kunde eine fundierte Kaufentscheidung treffen kann. Das ist wichtig, denn es gibt Produkte, die anspruchsvoll sind und einer Erklärung bedürfen.
Sie möchten erfahren, wie Guided Selling im Detail funktioniert? Dann schauen Sie sich doch mal unser Whitepaper: Guided Selling an.
Intelligente Begründungen
Eine Besonderheit des Produktfinders sind die intelligenten Begründungen (Intelligent Reasoning). Der Produktfinder zeigt nämlich nicht nur Produktempfehlungen an, sondern begründet individuell, in wie fern die vorgeschlagenen Produkte zu den Anforderungen des Kunden passen.
Der Kunde bekommt also überzeugende Kaufargumente präsentiert und kann eine sichere Kaufentscheidung treffen.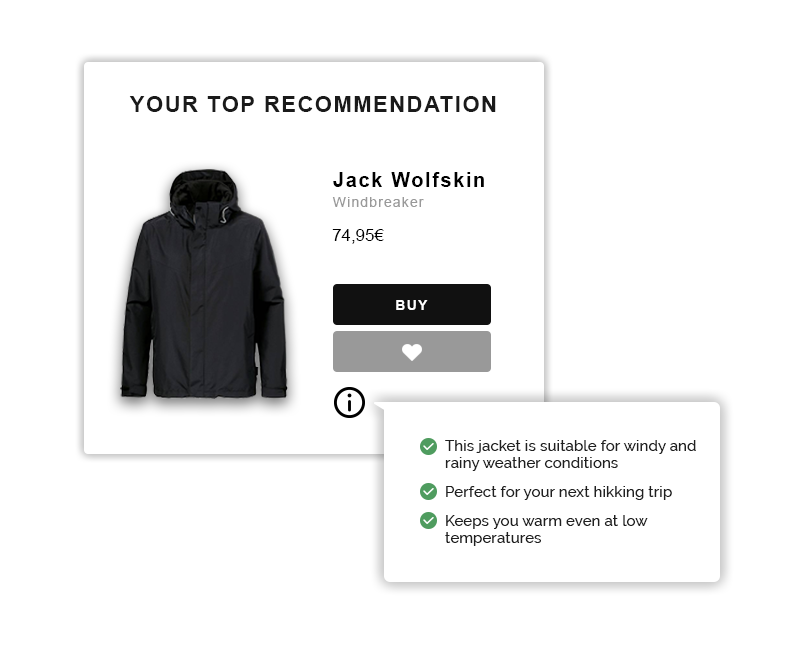 Intelligente Begründungen helfen Ihren Kunden dabei, eine fundierte Kaufentscheidung zu treffen.
---
"Die Produktempfehlungen werden optimal auf die Bedürfnisse des Kunden angepasst."
B2C Solution
Outdoor and Sport
Vaude
Tent Advisor
The Vaude Tent Guide is the ultimate advisor tool for online customers. It asks simple questions to understand the smallest of needs and keys in factors that the customer may not have thought of before. The guide provides explanations on complicated topics and allows users to compare the advantages of different tents.
Highlighted Features:
Welche Vorteile bietet ein Produktfinder?
Conversions steigern und Retouren minimieren:
Der Produktberater führt Ihre Kunden schnell und sicher durch den Kaufprozess. Gleichzeitig lassen sich durch die gezielte Beratung Fehlkäufe vermeiden und die Anzahl an Retouren minimieren.
Kundenzufriedenheit erhöhen:
Mit einer professionellen Produktberatung sorgen Sie dafür, dass Ihre Kunden ein passendes Produkt finden und mit ihrem Einkaufserlebnis zufrieden sind.
Cross Selling für noch mehr Umsatz:
Darüber hinaus können Sie Cross Selling in Ihren Produktberater einbinden und dadurch für noch mehr Umsatz sorgen. Beispielsweise würde der digitale Produktberater passend zum Zelt auch einen robusten Schlafsack und weitere Camping-Ausrüstung anbieten.
Beratung 24/7:
Mit Guided Selling stellen Sie Ihren Kunden jederzeit eine digitale Beratung zur Verfügung. Selbst an Wochenenden und Feiertagen begleitet der Produktfinder Ihre Kunden bei der Produktauswahl.
Wertvolle Customer Insights:
Mit excentos Analytics gewinnen Sie wertvolle Insights über die Präferenzen und Anforderungen Ihrer Kunden. Sie können Trends beobachten, Ihre Zielgruppe genauer definieren und deren Bedürfnisse nachvollziehen.
---
"Mit Guided Selling sorgen Sie für zufriedene Kunden und steigern Ihre Conversions."
Bauen Sie Ihren eigenen Produktberater mit
der excentos Workbench.
Other Posts
A short guide on Guided Selling

Read all about Guided Selling software, and the many different Ecommerce solutions that are available for B2Bs and B2Cs.

What's the big deal about Direct to Consumer (D2C)?

An in-depth look at the D2C trend and how brands can use aspects of it to increase their brand presence and get more control over their product and consumer data.

Top UX trends for Ecommerce 2021

With disruptive challenges in 2020, brands and retailers adopted new strategies for Ecommerce. Get to know the top UX trends you can use to not be left behind.
advisor concepts, sport and outdoor