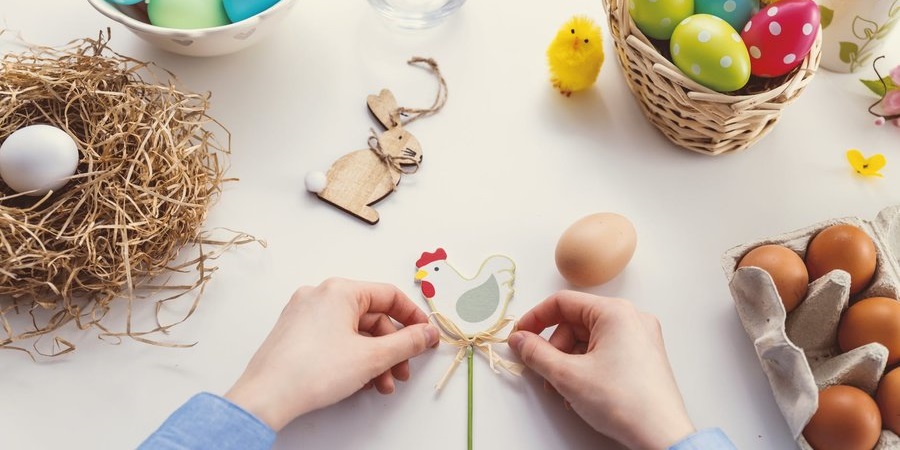 Easter - the time for family, reflection and renewal. Surprise your current customers and engage new ones with the excentos Product Finder. Providing gift inspiration to your customers has never been so easy as with the excentos Workbench.
In this blog post, we showcase some of our favorite Gift Finders and explain why they work so well for all kinds of people, genders and age groups.
1. For the Chocoholics... because nothing screams Easter more than chocolate!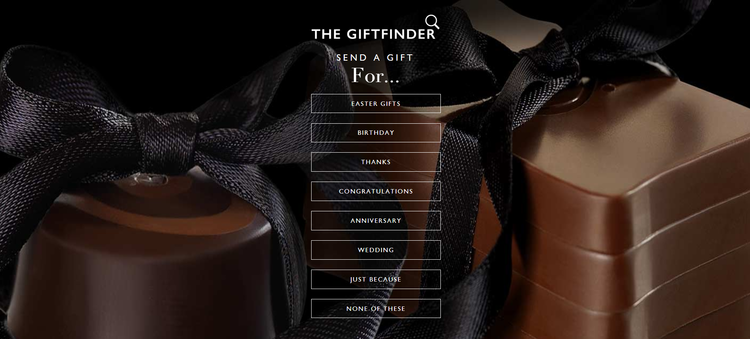 Take me to the Gift Finder: Chocolat Gift Finder
Hotel Chocolat

Chocolate Specialists
Hotel Chocolat is a luxury British chocolatier and cocoa grower. With over 130 shops, cafes and restaurants, three boutiques in Copenhagen and a hotel on their cocoa plantation in the Caribbean, Hotel Chocolat are revolutionizing the chocolate industry.
What do we think? This exquisite Gift Finder is oozing in irresistible temptation and an insatiable appetite for the best chocolatey gift. Its simplistic yet luxurious design perfectly compliments the Hotel Chocolat brand. Shopping for Easter eggs has never been so fun!
2. Treats for the kids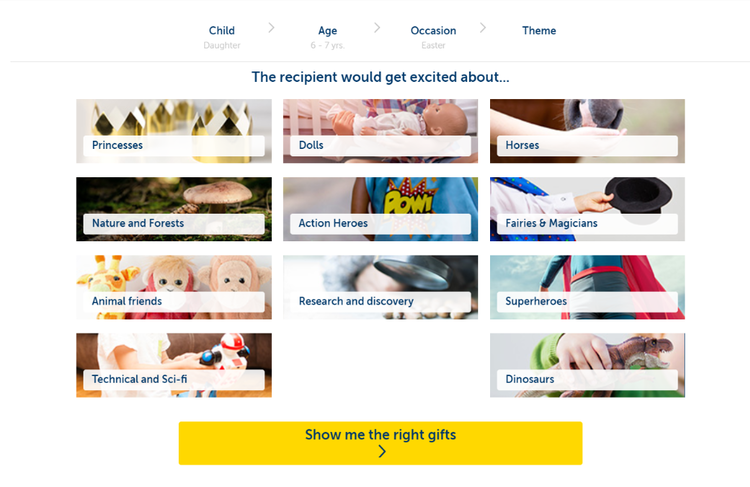 Take me to the Gift Finder: Mytoys Gift Finder
MyToys

Children's toy specialists
MyToys is Germany's leading retailer of children's toys and accessories and one of the 12 largest online shops in the country! They are a multi-channel retailer with 14 branches.
What do we think? The variety of themes and adorable images easily gets the personality of the child across to the buyer. This Gift Finder is also quite extensive, asking several questions about the recipient to ensure it delivers suitable and intelligent AI-driven recommendations. A win-win situation for both you and your customer. Your customer happily walks away with the perfect gift and you increase your sales.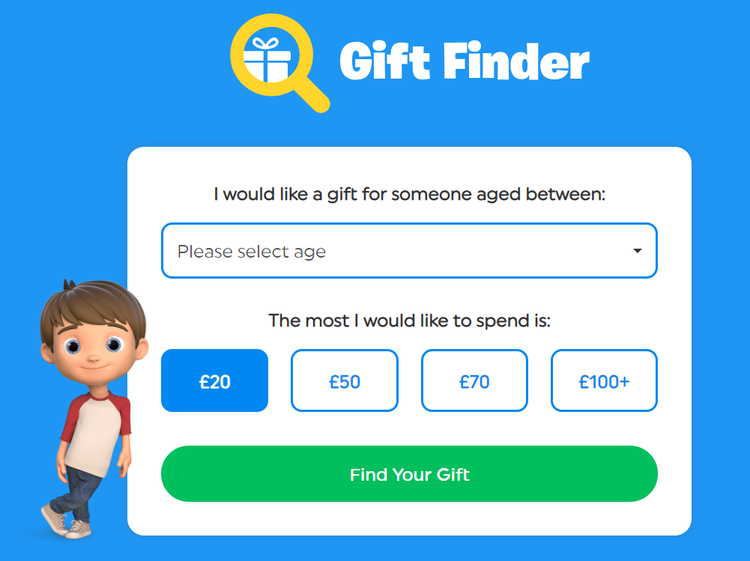 Take me to the Gift Finder: Smythstoys Gift Finder
Smyth's Toys

Children's toy specialists
Smyth's is Ireland's largest toy store and a multinational chain provider of children's toys and entertainment products.
What do we think? The simple theme and colors perfectly fit the branding of a toy store and the graphic of the young boy brings life to the Gift Finder. It's also a great idea to offer users the chance to specify their maximum spend, especially when it comes to buying things like toys which we all know can easily leave a hole in our pocket. Additionally, by filtering out products which are not within the customer's price range, you can better highlight the products which they can afford and are more likely to buy.
3. For the book worms wanting a fresh read this spring...

Take me to the Gift Finder: Magazine Gift Finder
Magazine UK

The Magazine Specialists
Magazine UK is the UK's largest online subscription site for hundreds of magazines to suit everyone's preferences.
What do we think? It's always nice to receive advice and tips on what could be a good read. This cool Gift Finder asks about the recipient's personality which is always an important factor in finding the perfect gift.
4. For the whole family!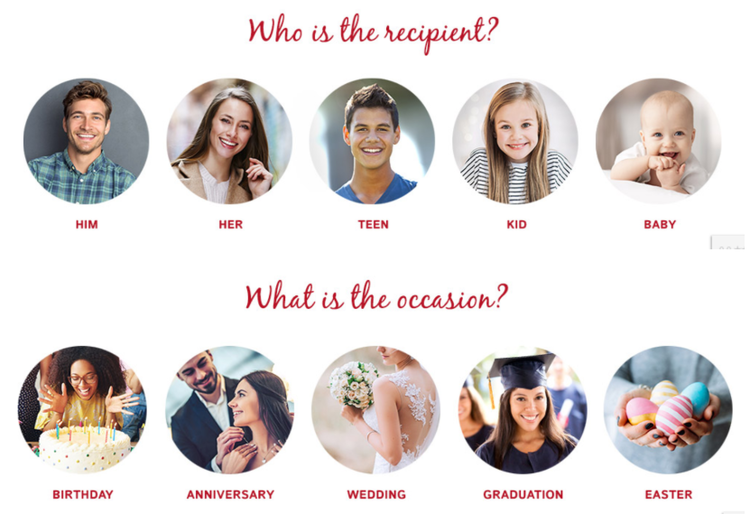 Take me to the Gift Finder: Gift Finder
Gifts.com

The Ultimate Gift Website
Gifts.com is an online shop selling a large assortment of products to suit anyone and everyone.
What do we think? These lovely images really capture the essence of everyone you could want to buy a gift for as well as the occasion to go with it. Since Gifts.com sell such a large amount of products which are suited to all kinds of people, it's important that they provide their customers with a support mechanism like a Product Finder which helps users to narrow down their search.
5. For the special ladies in our life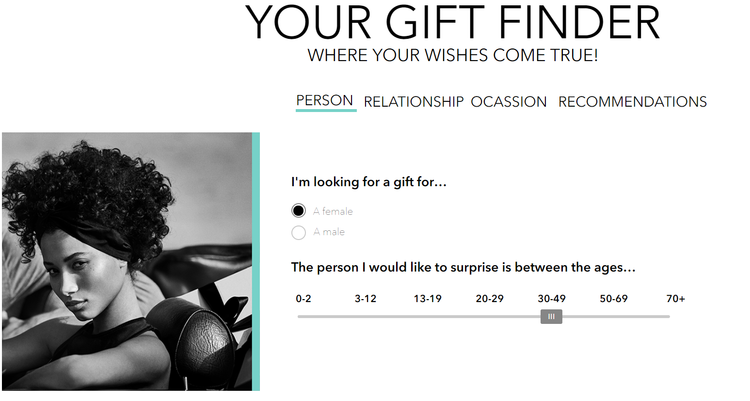 Take me to the Gift Finder: Douglas Gift Finder
Douglas

The Beauty Specialists
Douglas is a German perfume and cosmetics retailer with around 35,000 products in more than 1900 stores across Europe.
What do we think? Buying cosmetics online can sometimes be a challenge since you can't test it or smell it. The Douglas Gift Finder deals with this issue well by asking the right amount of questions. They also use a slider feature for people to specify their age which is a pretty important factor when buying cosmetic products but also great for usability as users don't need to insert any free text.
6. And let's of course not forget the special men in our life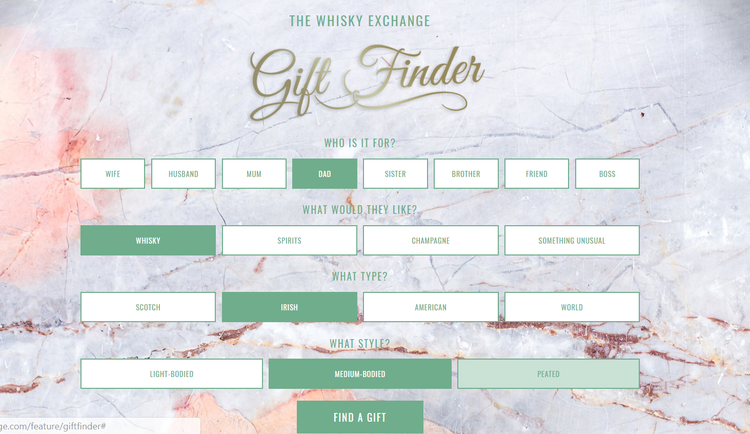 Take me to the Gift Finder: Whiskey Gift Finder
The Whisky Exchange

The Whisky Specialists
The Whisky Exchange is one of the largest online retailers of whiskey, advising and serving thousands of people their favorite tipple every week.
What do we think? This Gift Finder is clearly more suited to whiskey lovers since the questions are more focused towards those who know what they are talking about. The concept, however, is great, since it's always helpful to receive advice before you buy with more higher-end products like spirits and liqueurs.
So, how can online Gift Finders benefit my business?
Have an edge over your competitors
Improve user experience - customers no longer need to feel frustrated by having too many options or a lack of online support.
Make online shopping more fun - Gift Finders are interactive and engaging for customers, helping them to discover great product recommendations.
Reduce return rates - when people receive the perfect gift then there is no need to send it back.
Start building your concept and provide your customers with gift inspiration.