Feature Roadmap
excentos Workbench
excentos pursues a feature roadmap to provide you with
Europe's leading platform for Guided Selling processes.
Our Feature Roadmap focuses on 3 main goals:
1
Powerful
Functionality
with everything you need to implement great Guided Selling solutions
2
Easy
to Use
as simple as creating e.g. a website with any Content Management System
3
Easy
to Use
stay in touch with us to share your experiences and requirements
The excentos Guided Selling Platform offers hundreds of features and configuration options. The Workbench makes most of them available to you - and it is continuously developed to be your perfect Guided Selling self-service backend. Our flexible architecture and APIs allow us to cover any requirements and customizations.
Please contact us to let us know your feature requirements.
Released Features
Create powerful Product Guides with an easy-to-use self-service backend
The initial go-live of the excentos Workbench brings powerful Guided Selling features into an easy-to-use self-service backend. The Workbench allows you to develop and maintain all essential functions of Product Guides yourselve:
create new Product Guides or Faceted Search solutions yourselves
configure all questions and answer options
upload your product data feed and make the most important edits to the data

attach the answer options to product data attributes,
create simple and advanced data mappings
maintain the entire content (i.e. images and explanation texts) of the Product Guide
provide the Product Guide as a responsive Wizard with great usability that supports desktop, tablet and mobile devices
hide questions and answer options
(define more complex question flows coming soon)
analyze the usage data in the excentos Web Analytics tracking system
and many other features, such as defining all values displayed with each product recommendation, drag and drop of phases/questions/answer options, edit your user and company information etc.
deploy the Product Guide and copy one line of script-code to integrate it into your Shop / Website
released June 2017
Extended Control of
Recommendation behavior and Reasoning
Make fine adjustments to the matching, recommendation behavior and reasoning
model your own filter criteria and define possible deviations in the recommendation behavior
edit tolerances that define how strict or soft a user-requirement needs to match and if there are preferences, e.g. if color blue is not met, recommend the color petrol as an alternative but with a slightly smaller fit degree
configure the match weights that define how important one user requirement is relative to other user requirements
edit the reasoning that is shown for every product and shows how the products match to the user requirements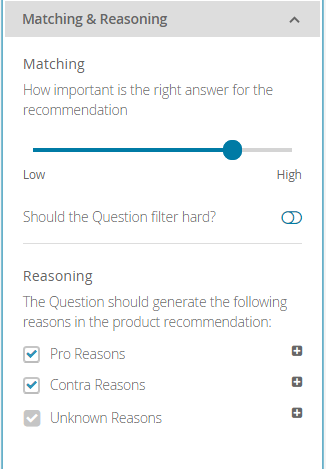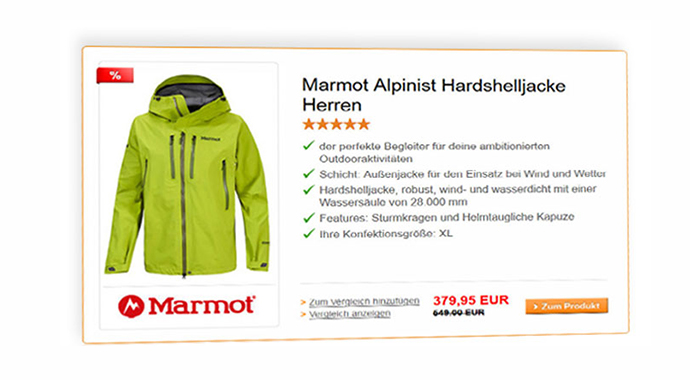 ---
Development Roadmap
User Interface:
Choose and Style your Theme
Step one: Adapt the theming to your shop or website
To enhance the seamless integration of our Product Guides, we will make the style of your Product Guide themeable, i.e. you can adapt it to your corporate design.
Make sure it fits.

The genaral styling options allow you to style your Product Guide with only a few clicks.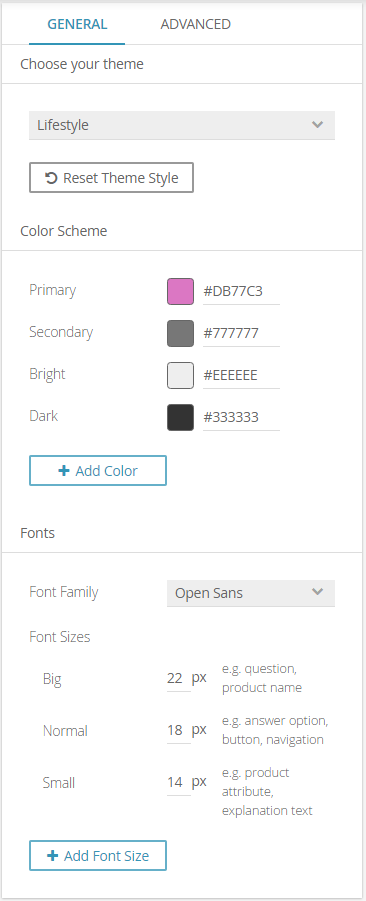 Create perfection up to the last pixel.

The Workbench's advanced styling options enable you to adjust every element of the Product Guide according to your website's style.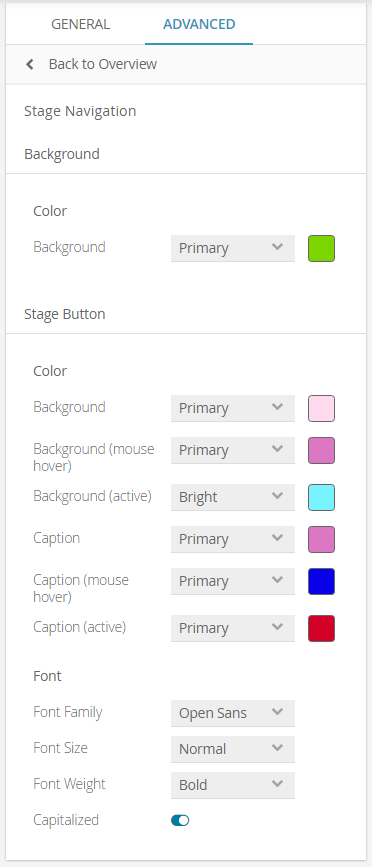 planned for January 2018
Step Two: Choose between different themes
Additionally to the already existing responsive wizard, you can build longpager user interfaces for desktop, mobile and tablet with the Workbench. This allows you do use completely different layouts of the Product Guide depending on the use case and your shop or website. excentos supports several user interface options and combines the possibilities of pre-defined themes together with full custom styling.
planned for February 2018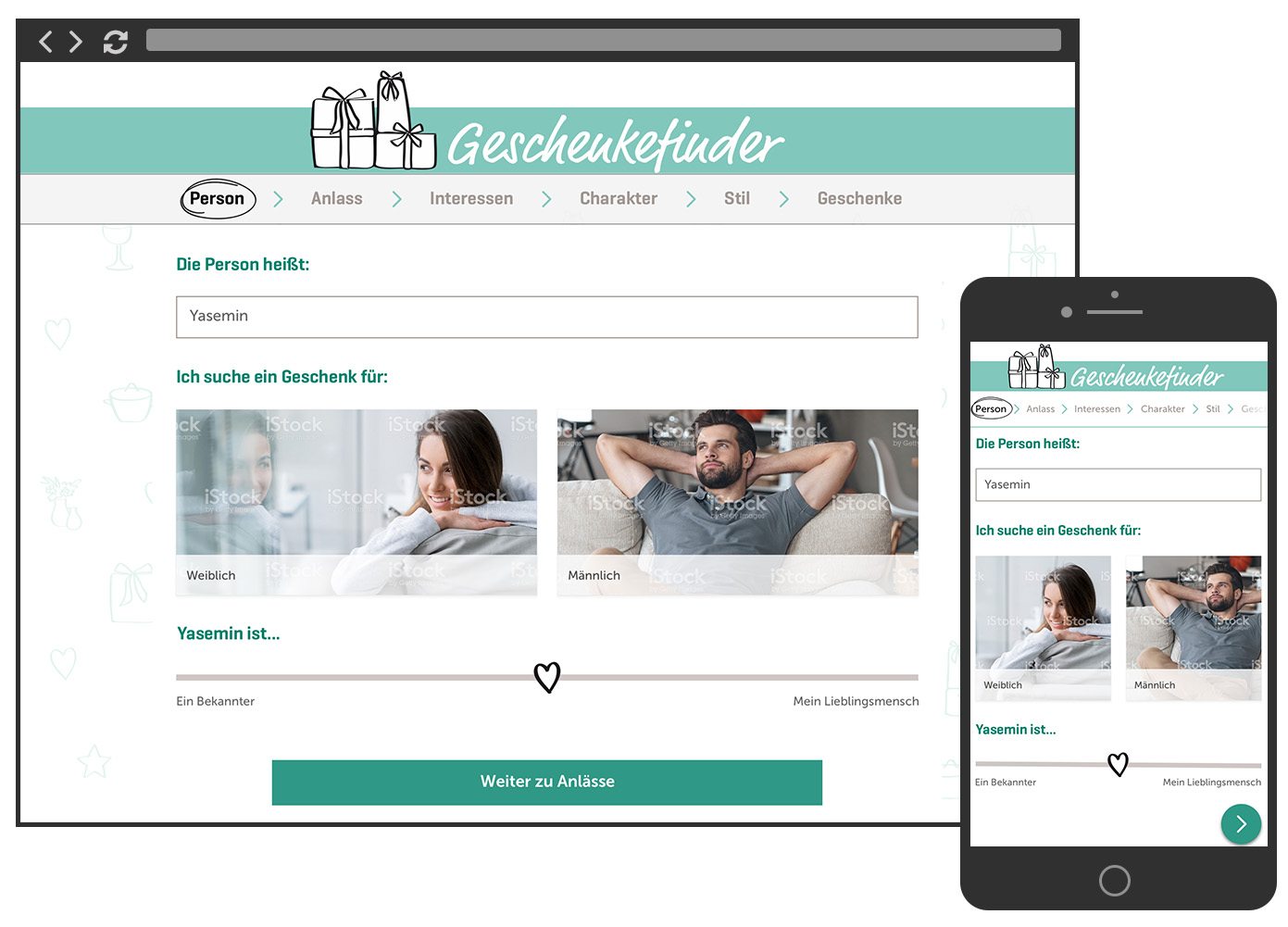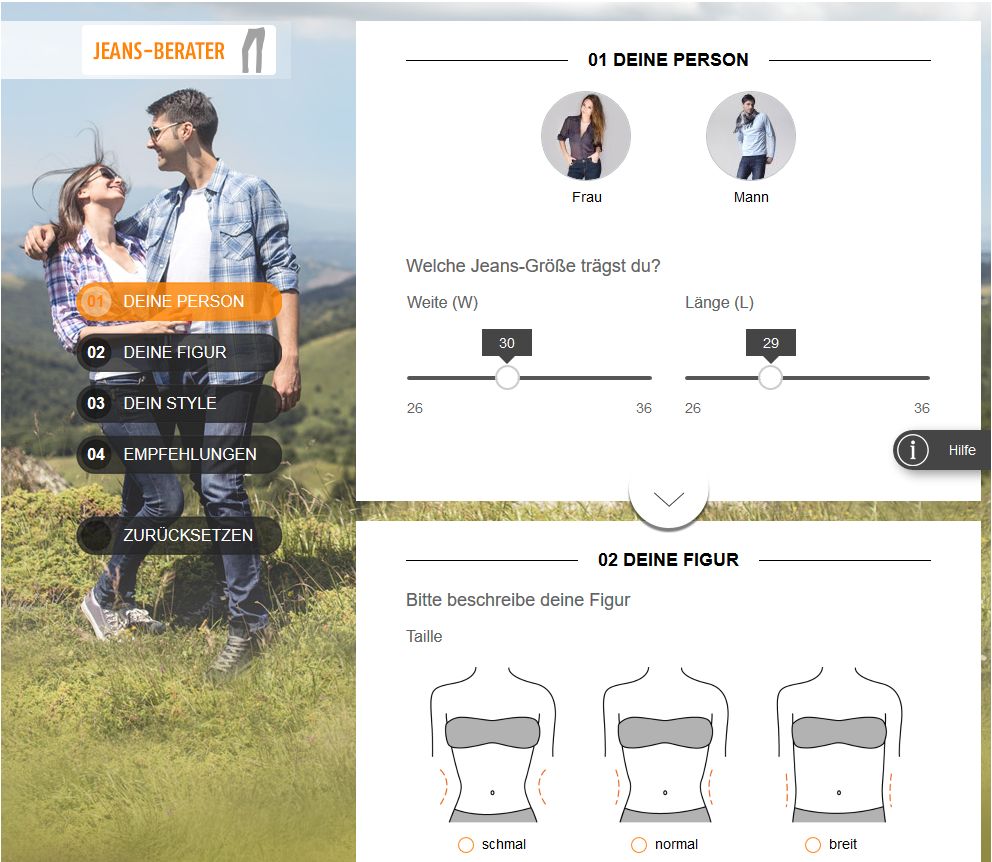 Internationalization
and Market-Specific Adaptations
Bring your Product Guides global
You want offer the Product Guides in many different countries? You want to adapdt the product assortment and prices to different markets or retailers in a channel rollout? With the Workbench you can translate the entire content and even easily adapt the explanantion images for each country. Additionally, you can maintain different product assortments and offer data feeds per country and configure product availability.
planned for Spring 2018
A/B Testing
Optimize your Product Guide continuously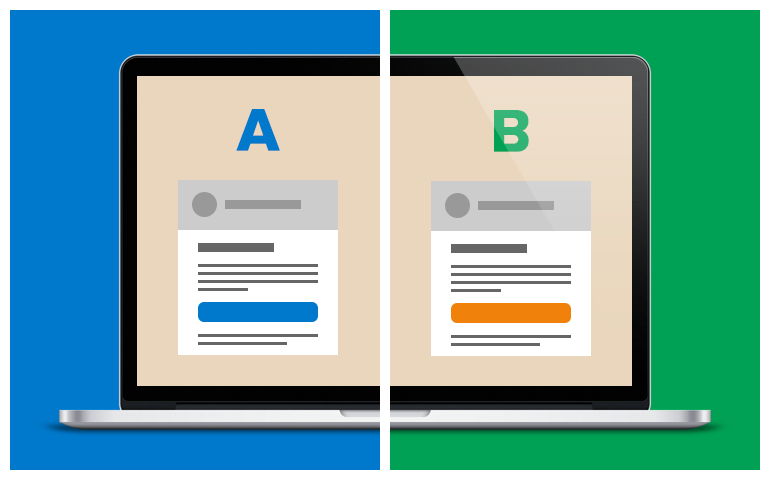 Create test variants that can differ in content such, as questions, answer options, question flow and also recommendation behaviour and define how to split the traffic between variant A and B. Analyze the success of each variant in your Web Analytics and optimize your Product Guide.
planned for Spring 2018
Define Data Download Jobs
Specify your automated data imports according to your needs
With the Workbench's automated download jobs you can define yourself how often the product data should be updated. This way you can ensure that all changes made to the product assortment will be used immediately in your Product Guide. Especially if you have a large product assortment or a product assortment changes often, you can assure that the data is always up to date by defining automated updates daily, hourly or even live.
Advanced Data Processing
Powerful features to clean up your data
This includes tools for data parsing, data cleansing, data editing, analysis and reports on data quality and ETL (extract-transform-load) processes. The advanced data processing options allow you to attach your Product Guides to even more complex data sources and obtain better data quality - without requiring complex data pre-processing jobs on your side!
planned for: upon request
Let your experts train the
Recommendation Behavior
Experts in the product category can easily train the recommendation behavior
Most Product Guides require an explicit knowledge model that defines dependencies of user requirements and product attributes. This is great for functional and technical product categories, e.g. in a ski advisor to translate the body size and experience level into a recommended length of a ski. However, for many other attributes or use cases, such as gift finders, subjective criteria, or soft / tendentious relationsships, it is much more intuitive to let an expert train the recommendation behavior by providing feedback on example recommendations.