Following the product search, every customer lands on your Product Detail Page. With a well placed and effective search or Guided Selling tool, you will already have increased the chance that your customers end up on relevant Product Detail Pages. However, despite the fact that your customer may be well informed about the chosen product and is already close to making a buying decision, customers will still have numerous questions and expectations playing on their mind.
---
If we weight it up, everything boils down to one final question: Is this the right product for me? At that point, an effective Product Detail Page provides the information that the customer is craving and convinces the customer to make the buying decision. So, how do you create an effective and inspiring Product Detail Page?
Essentials of an Effective Product Detail Page
1. Detailed Product Descriptions
Give your customers the information they need and more! Besides all minor, complicated technical product information, customers search for detailed product descriptions. Well-written product descriptions are extremely persuasive and use buzzwords to promote the pros of the product. They show use cases of the product that promote the advantages and differentiate the product from competitors' products. Overall, detailed product descriptions give many convincing arguments to buy the product and at the same time they are SEO-friendly and pull search engine traffic directly onto the Product Detail Page.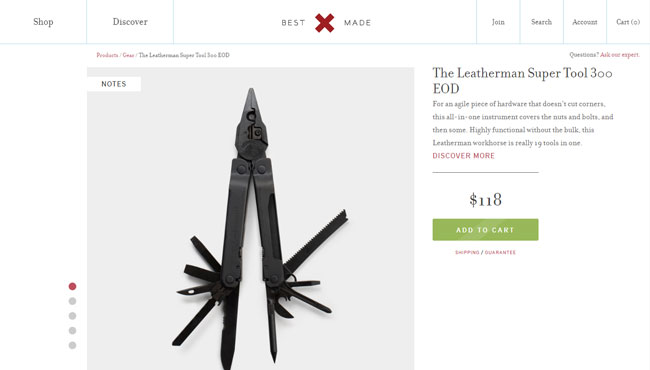 ---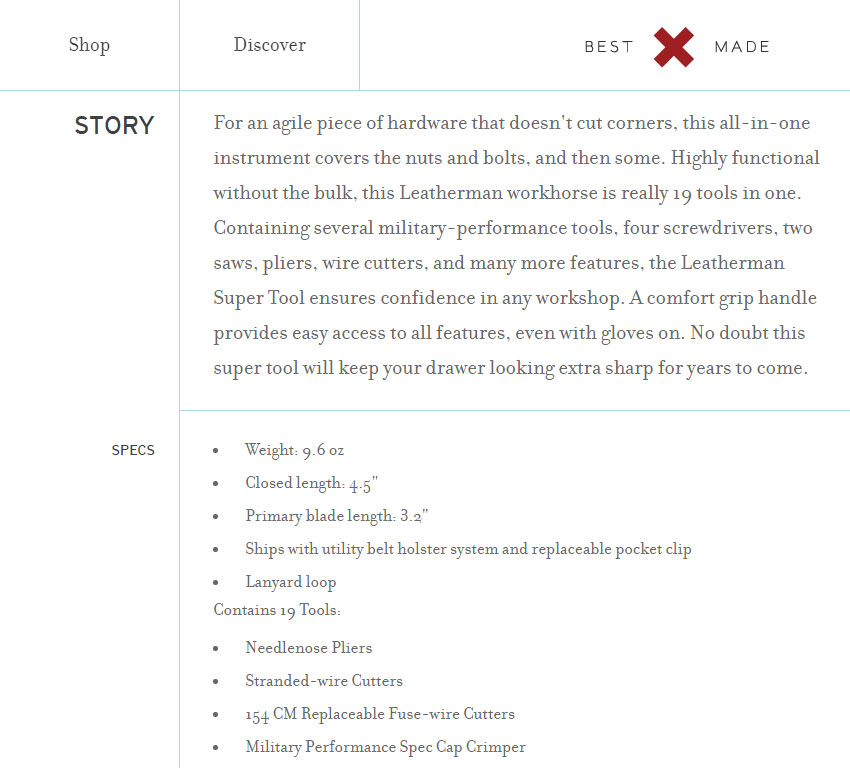 This example of Best Made Company shows a carefully written and very descriptive text. It nicely promotes use cases and the advantages as well as gets the reader excited about the product.
---
2. High-Quality Images
First impressions are everything. High-quality pictures are absolutely vital to display your product in a positive light. The more pictures available, the easier it is for the customer to relate to the product and imagine it in their everyday life. An additional hover zoom function provides a close look at every little detail which the customer really appreciates. The displayed image selection depends on the product itself und brand image can vary from mood images to simple product display to images showing the product in use.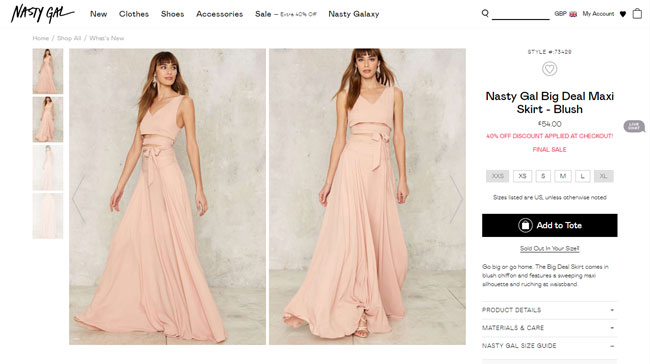 Nasty Gal does not fail to impress. They use a great selection of images and show not only one but directly two large images which fit perfectly with the brand's image.
---
3. Clear Navigation and Call-to-Action
The navigation should support the customer's movements on your websites. Needless to say that we want the customer to move from the Product Detail Page to another. If your Product Detail Page does not have a direct product comparison function, users can compare them via the Product Detail Pages. An explicit call-to-action is essential and serves exactly one purpose: to get your customers quickly to the checkout if they made the decision to buy. It should be instantly visible and appear in a color that attracts the customer's attention. However, if the customer wants to go back to the previous overview, it should be supported as well. Breadcrumbs provide an easy way of navigating your website and prevent any unnecessary drop offs.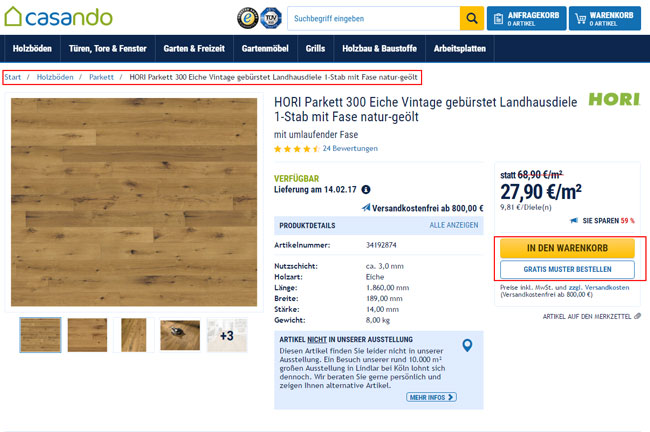 Casando uses breadcrumbs to enable a quick navigation between product overview, while a clear call-to-action button leads the user to the checkout.
---
4. Display Variations
If you display product variations directly on your Product Detail Page, you will keep customers there instead of leading them back to the categories or overviews. The variations should also show the proper price and product information which may have changed, for example: available colors, sizes, stock levels and packaging sizes.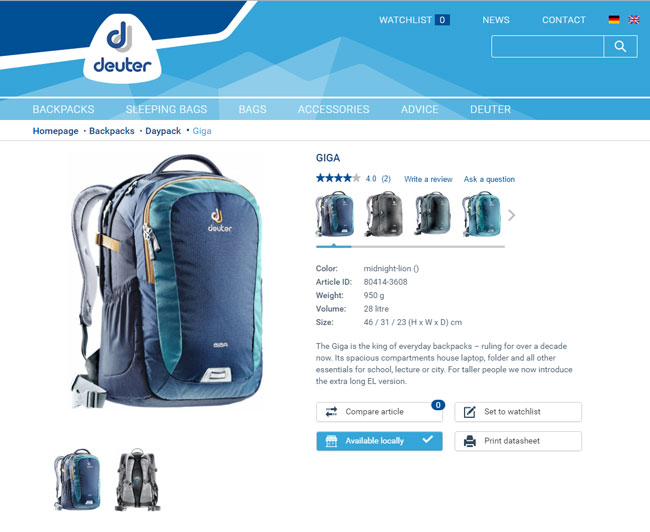 Deuters offers a nice example how to display color variations. All relevant product information change according to the variation.
---
Conclusion
An effective Product Detail Page needs some essentials, in order to be successful. Persuasive product descriptions, inspiring high-quality images, a simple and powerful checkout navigation and a proper display of variations. However, other features that we find regularly on Product Detail Pages can also increase conversion or decrease drop off rates. Read part two to learn more about cross-selling, user reviews, videos and stock information.