It's that time of year again - Valentine's Day is around the corner! Customers are panicking that they've still not found that special gift for their special someone.
We all know how much of a pain gift shopping can be - whether it be for your love on Valentine's or any time of year for that matter: birthdays, Christmas, anniversaries etc. Even when you know someone well, finding a good gift can be tricky and most of the time, it's hard to even know where to begin.
This is where Online Gift Finders can really help and advise your customers. Gift Finders are an excellent tool for providing your customers with gift advice, inspiration and recommendations - both easily and successfully!
Let's take a look at the advantages of Gift Finders as well as an example of how leading online homeware store yomonda is already using them.
L

OOK

Having a Gift Finder on your website is enticing for customers - they are bound to be curious and test it out. It's fun to use and provides inspiration and recommendations - particularly useful for those who struggle for gift ideas or even people who find your number of products too overwhelming to trawl through. excentos recommender logic uses an intelligent matching engine and combines your sales and marketing strategy. That is what makes the Gift Finder an invincible tool bound to increase your sales and look good in your online shop.
O

BSERVE

With excentos, you can observe and track how your Gift Finder is performing, as well as monitor online consumer behaviors. Our web analytics tool collects valuable user information and buying desires which help to assist you in optimizing your marketing strategy and customer approach. Find out exactly how your customers think and which products they really love!
V

ALUE

Sales personalization provides great value to your customers and allows your business to create real customer relationships online. Gift Finders provide you with the opportunity to speak with your customers and not at them. Customers who experience a pleasant online shopping experience are more likely to value your business and get to the checkout.
E

XPERIENCE

We all know how important user experience is when it comes to e-commerce. Gift Finders make the online shopping experience more interactive and also provide good advice and recommendations like you would receive if you went in-store and spoke to a sales assistant. Customer expectations are rising and so it's important that your business keeps up and delivers a high quality online service. After all, the customer is always right so make sure you are proactively finding new ways to keep them happy!
---
Love is in the air
yomonda demonstrates that love really is in the air with their excellent gift finder. It inspires and gives online shopping that extra special human touch. Check it out:
yomonda - Leading Home Furnishing Retailer
yomonda sell products which make your home more beautiful - anything from home accessories and textiles, furniture, lighting, kitchenware, garden, bath & wellness and more... They aim to offer an online shopping experience which inspires. Their Gift Finder compliments this ethos perfectly.
---
Step 1 - Person
By asking the customer to type the name of the person they are buying a gift for as well as their relationship - the shopping experience becomes much more intimate and personalized.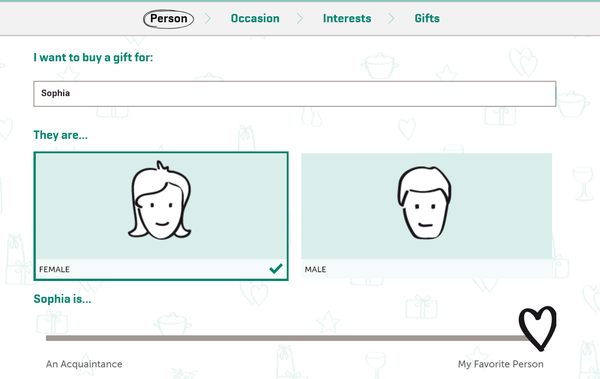 ---
Step 2 - Occasion
Narrow down the search for your customer and allow them to discover gifts which perfectly suit certain occasions.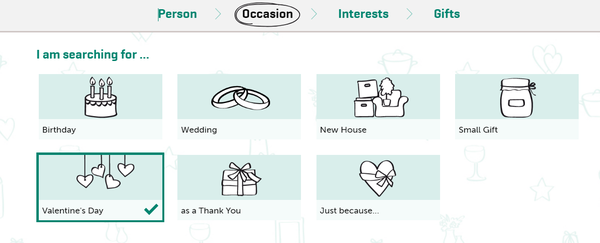 ---
Step 3 - Interests
Let the customer tell you a bit more about the person they are buying a gift for. What are they interested in?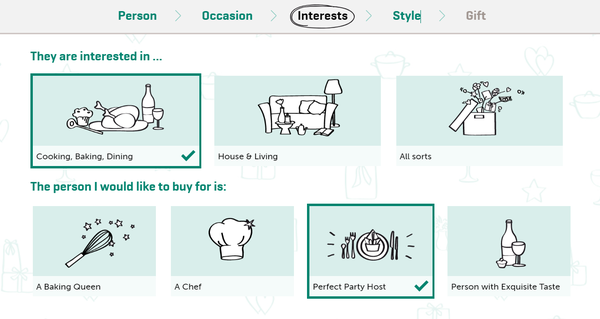 Step 4 - Style
The Gift Finder only asks questions that your customers can answer. What kind of style does the recipient have?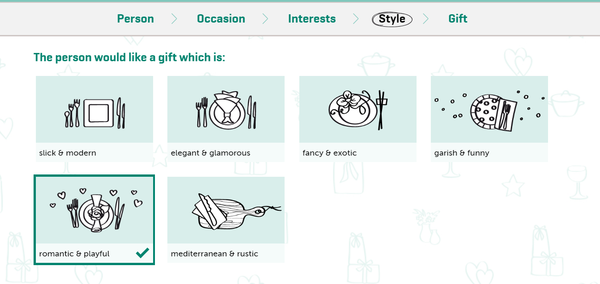 ---
Step 5 - The perfect Gift
And finally, your customer is presented with clever recommendations which the recipient of the gift is bound to love.

---
Step 6 - More great recommendations...
For those customers feeling generous, they are also presented with several more suitable recommendations.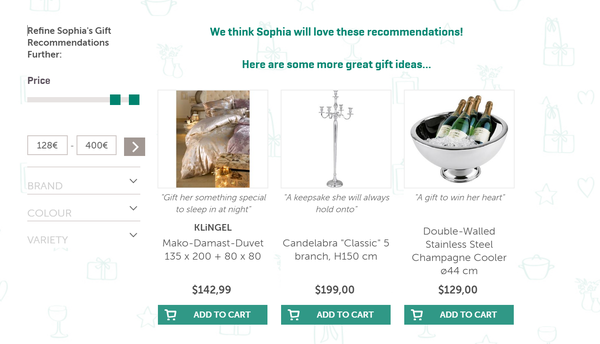 ---
Help your customers find their perfect gift this Valentine's