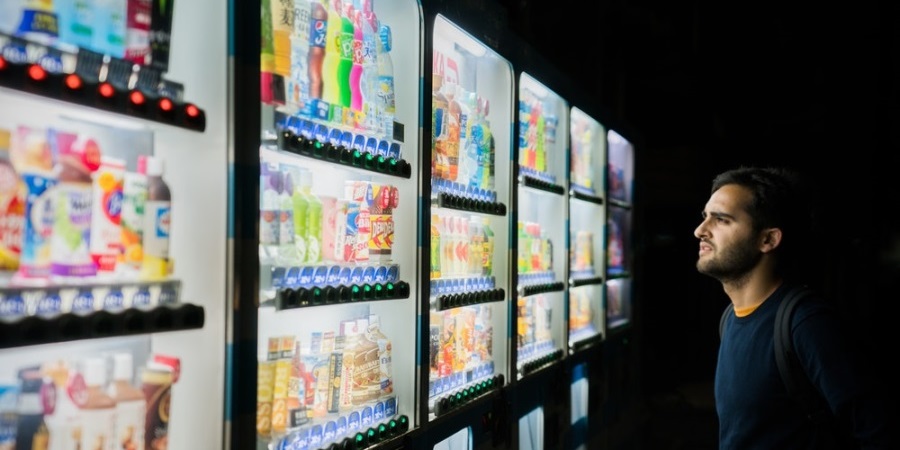 We can all identify with some of the struggles presented to us by online shopping. Unable to locate the product we want, too many search pages to trawl through, not sure whether to take the risk and buy without seeing it in the flesh. Think back to when you first did an online food shop for example.Did you get confused and a bit frustrated about the large product assortment presented to you? It's not so easy to browse through online as it is to walk through the store, right? The worst is, you can't even grab the nearest sales assistant to quickly guide you to the correct aisle.
---
Lots of E-commerce Managers and Marketing Teams are realising that their online shoppers are being turned away due to lack of guidance and advice available to them online. Don't allow your customers to be put off! Thanks to intelligent technology, there are lots of online Guided Selling methods out there to make online shopping more customer focused. Let's discover which method is most suited to your particular online shop.
Here are some of the most common asked questions by online shoppers, as well as the pros and cons of different Guided Selling solutions on offer:
Customer asks: "What kind of features can this product offer?"
Guided Selling Solution: The Faceted Search
The faceted search breaks down a product's features and specifications making it easier for the customer to filter out what they do and don't want in their product. Literally, every shop uses faceted search, either as a standalone search or as an after-search navigation.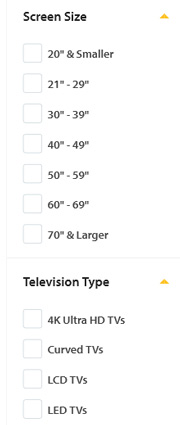 Pros:
Efficient browsing within a product's category
The fastest way to browse a product assortment
Intelligent faceted search solutions don't lead to dead-ends and are able to explain a lot about the product details - particularly ideal for professional buyers who are already pretty familiar with your products
Cons:
Faceted searches are unable to assist customers who are unsure of their requirements and exactly what they want
The faceted search does not function like a human and won't be able to advise and educate your customer like a sales assistant would
---
Customer asks:"Which of these products fits my needs, and, uhmm, what actually are my needs?"
Guided Selling Solution: Product Guides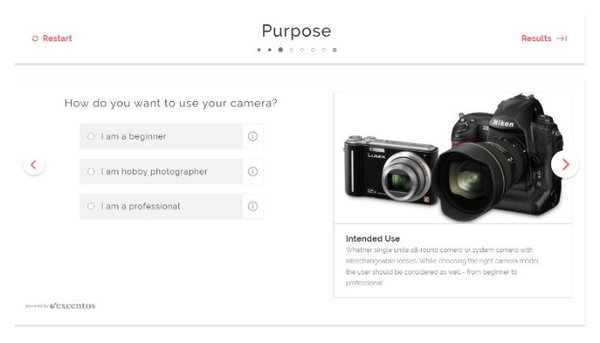 Product Guides really help the customer to get what they need. Once the customer has started exploring your products with the faceted search, they want to know which product is the right one for them and this is where the Product Guide comes into play. Product Guides allow you to deliver a short yet savvy questionnaire for your customers to state what they do and don't want. AI Guided Selling technology can then refer the customer to an ideally suited product match.
Pros:
Be able to naturally guide the customer through the selection process
Product Guides act like a piece of marketing to further enhance your products and make them more attractive for purchase
Make online shopping a more enjoyable, customer focused online shopping experience
Be able to offer cross-category recommendations to try increase sales even further
Automatically update your latest product listings and automatically adapts the question flow to never ask unnecessary questions
Sell in line with your sales strategy and reach targets by controlling the recommendation behavior and ensuring the Product Guide recommends exactly what you want it to
Cons:
Someone has to develop the questionnaire concept and in order for it to create successful product recommendations, time and expert knowledge is required
For tips on "How to Create the Perfect Product Guide"
- see our blog post:
How to create the perfect Product Guide
---
Customer asks: "What's the in-thing? What is everyone else buying?"
Guided Selling Solution: Statistical Recommenders
If your customers are followers of trends, then statistical recommenders are great! They are able to fill the gap and learn from your shop or website's previous usage data which then translates into product recommendations. It detects patterns in buying behavior such as:
Users who bought this product also bought these other products
Users who watched this product also bought/watched these other products
There are separate types of recommender technologies, e.g. collaborative filtering and content-based filtering solutions. They aim to incorporate historical data or content, such as: product descriptions, names and attributes etc. More updated product recommenders powered by artificial intelligence focus on information such as product images, shipment returns, contextual information and much more...
Pros:
Scalable as data driven
Doesn't require explicit knowledge models
Can be very dynamic and adapt to user trends
Cons:
Cold start problem
Does not work properly for new products or if newly integrated into a website
Requires a lot of traffic to learn dependencies consequence: not suitable for smaller shops
Not very suitable for long-tail assortments (since there is little data per product; can be enhanced by content-based filtering or other contextual approaches)
No reasoning
Cannot make sure that there are complete mismatches, e.g. child book recommended together with sex toys since mom once bought this together (unless category dependencies modeled manually)

---
So, what do we think?
We say Mixed Models are best...
As you can see, there are many ways to guide your customers through your online shop. The best tools obtain great conversion rates and upselling by mixing the Guided Selling and data-powered recommender technologies together.
The excentos mixed Guided Selling and recommender technology is perfect to get the best of both worlds and offer your customers the best online shopping experience. The result is beneficial since it allows knowledge models which guarantee quality, reasoning and historial usage data to cover buying trends which quickly adapt to user preferences and allow the customer to have their say on which of your products are the best!
Increase your Sales and Reduce Drop Off Rates with Guided Selling Solutions
Let's talk more about your business and choose the best Guided Selling Technology for you