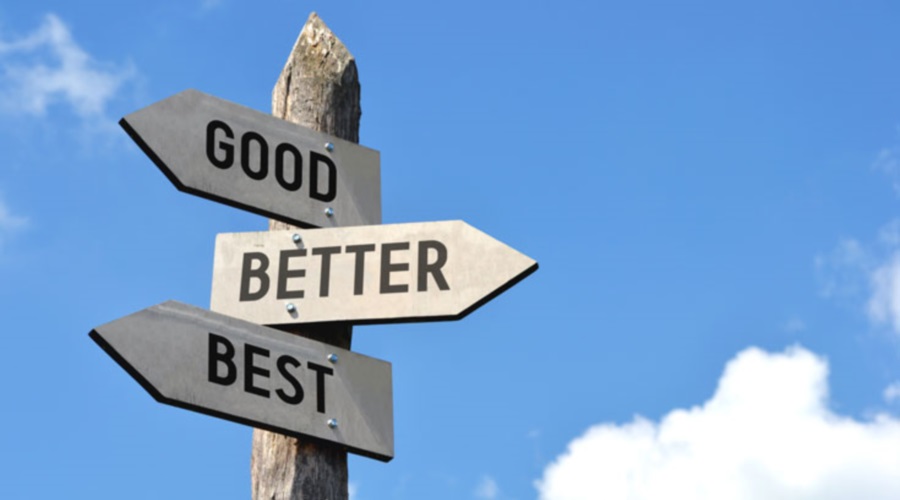 Advanced Guided Selling methods are changing the world of online shopping. excentos has gathered some of their favorite and most inspiring Guided Selling examples to share with you. Here are our top 3 based on usability, design, performance and result accuracy. (English and German)
---
1. SportScheck: Running Shoe Guide
If you've ever had to buy running shoes, you know that there can be an overwhelming amount of different product features which can make a buying decision rather difficult. However, SportScheck's running shoe guide manages to ease this decision-making process successfully and leads the user to their perfect running shoes in just a few simple steps.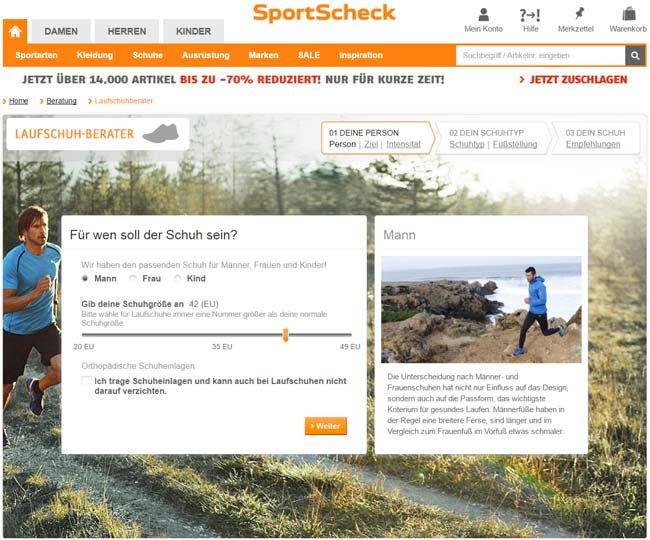 Usability: The navigation is simple and functional. The user answers the question and clicks 'next'.

Design: Organized and orderly. Background images change according to what the user answers.

Questions: Very easy to answer if the user knows their running habits, e.g. usual running surface.

Special Features: Embedded videos provide additional explanation content and great branding as Olympic athlete Nils Schumann features.

Results: Each product recommendation provides an individual reasoning which refers to the before defined user needs. An additional filter lets the user adjust the answers without leaving the extensive results list.
---
Overall: SportScheck's running shoe guide is a sophisticated all-rounder that provides you with matching recommendations in just a few steps.
Visit SportScheck's
Running Shoe Guide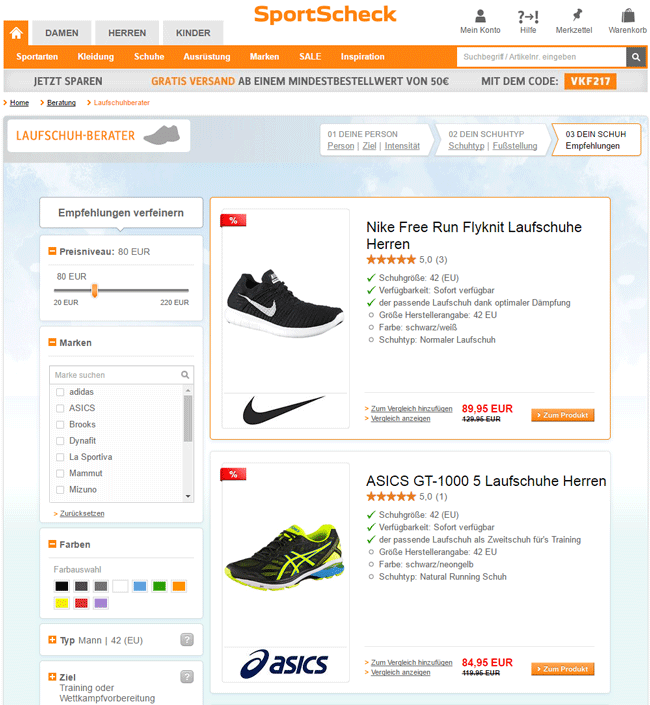 ---
2. Yomonda: Gift Finder
Yomonda's Gift Finder is a great example of a highly personalized shopping experience. Personalization starts with defining the person receiving the gift by name, gender and your relationship to this person, then continuing through the entire question flow.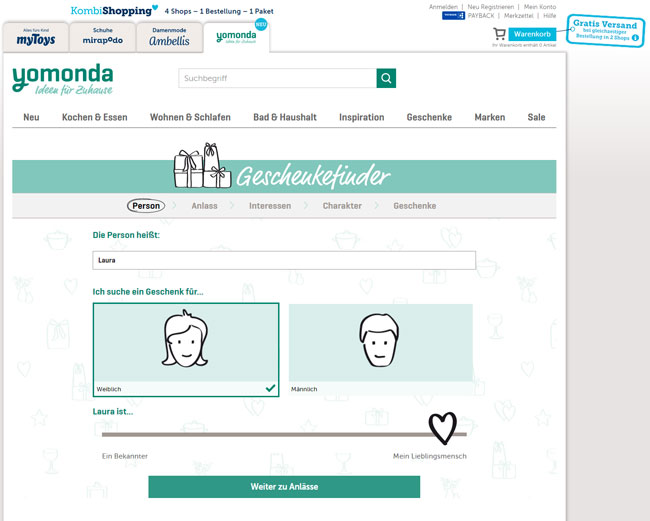 Usability: Nice widgets such as a heart slider. The heart becomes bigger the closer you define your relationship to the gift receiving person. Easy-peasy navigation. Answer. Click 'Next'.

Design: Simple but playful design.

Questions: Lovely, personal questions which use your knowledge of the person you are buying a gift for to find the right recommendation.

Special Features: Great level of personalization. A question flow based on the gift receiver's character.

Results: An extensive list of results that is further specified by an additional filter, accompanied by nice, personalized texts.


---
Overall: A Product Guide that utilizes personalization to make online shopping very enjoyable. Thanks to the questions focusing on the personality of the gift receiver, you easily transfer positive emotions upon the product recommendations.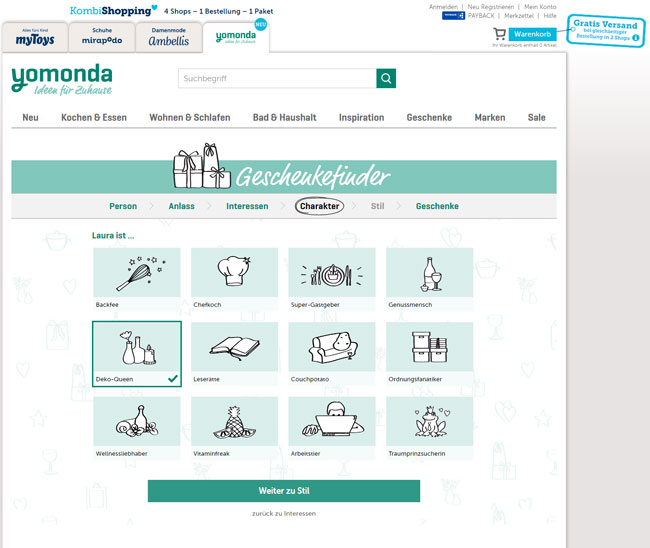 ---
3. Victoria's Secret: Sports Bra Guide
Victoria's Secret takes a Guided Selling approach that leads the user first to a "Fit Quiz". The quiz resembles a question flow to collect data about the user's preferences and ends with the "Sport Boutique" where further product requirements such as color or strap design can be specified.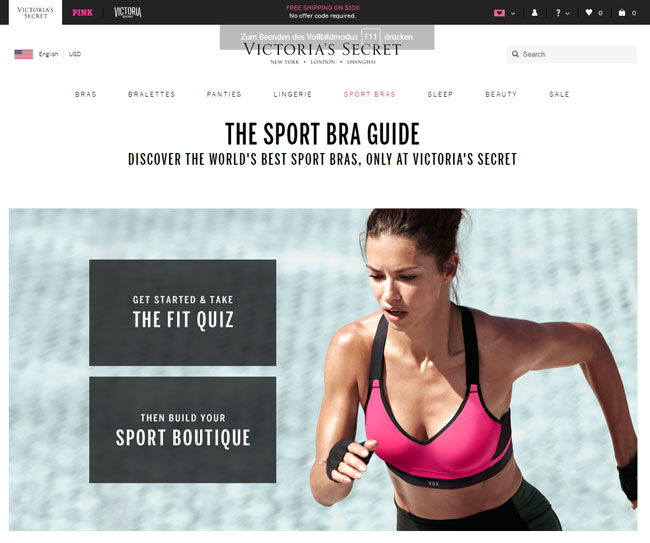 Usability: The navigation is not 100% clear. The split between "Fit Quiz" and "Sport Boutique" is unnecessary.

Design: Clear, simple and modern.

Questions: The questions are easy to understand and additional text explains the answering options.

Special Features: The user can convert between different international sizing. Additional videos provide assistance if you need to find out your measurements.

Results: As soon as the user lands in the "Sport Boutique", product recommendations are visible. However, to receive product recommendations that match, the user has still to add futher data in the form of user preferences.
---
Overall: You do not need to be an expert to shop for a Sports Bra with this Product Guide. The questions are simple to understand and you receive the necessary explanations if you do not understand the answering options or need to find your own measurements. Sadly, the separation between "Fit Quiz" and "Sport Boutique" interrupts the click flow of users. It would be beneficial to only display recommendations once the user has answered all questions to avoid any inaccurate recommendations.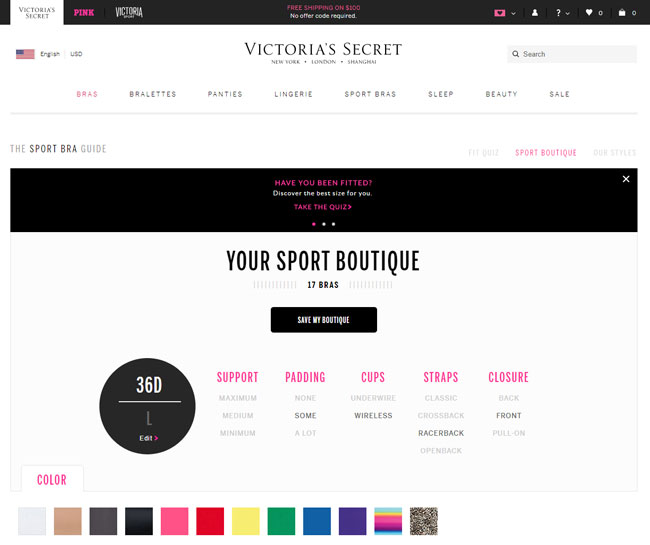 ---
Conclusion
Despite differences in design, usability, and performance, all three Product Guides are effective tools to guide shoppers to the right product. Each Product Guide displays an individual set of features; such as: great user personalization, incorporated videos of celebrities and explanation content which create a special customer experience. The possibilities of Product Guide features are endless and we look forward to more user-friendly online shopping experiences with Guided Selling.