Top UX trends for Ecommerce 2021
Ecommerce worldwide sales are approaching the $5 trillion mark and a steady growth is expected as customers will maintain their newly-found digital behaviors for the foreseeable future. There's a higher concentration of customer needs online than ever before. This digital shift has led brands and retailers to create more personalized experiences with regard to product presentation, design and content. There is also a surge of using artificial intelligence to better user experience. So let's take a dive into user experience by taking a look at these noteworthy trends.
Personalization and customization reign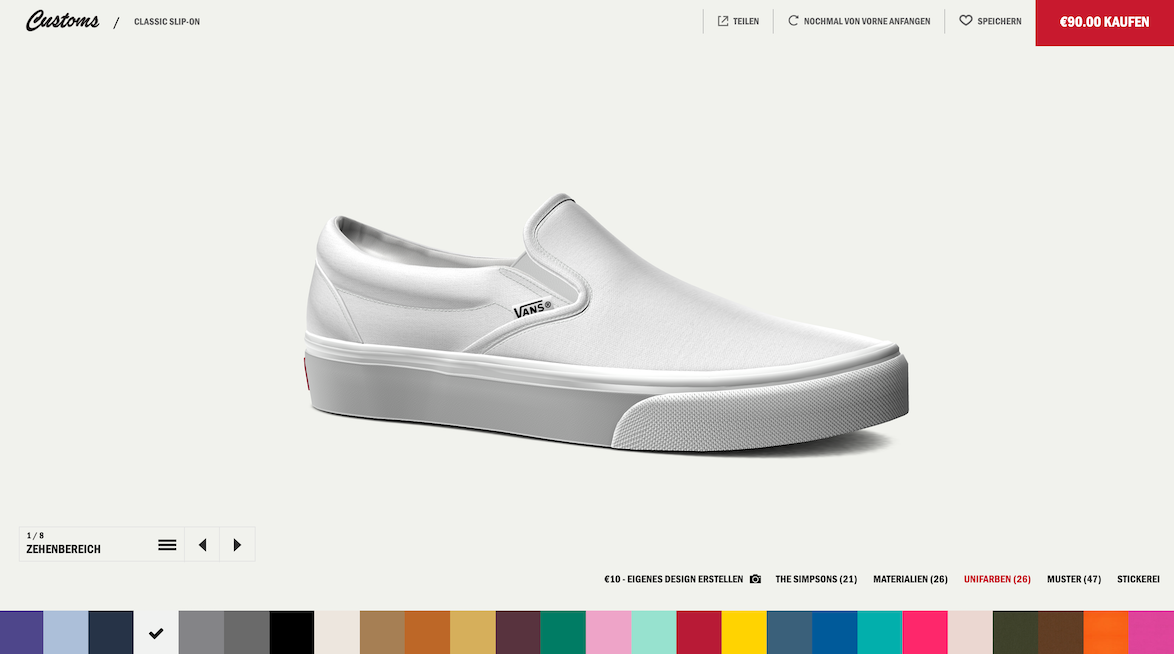 Vans product configurator
Personalization and customization continue to be popular amongst Ecommerce websites. It is important to remember that there is a distinction between the two. When data and technology are utilized to craft an individual experience, it is called personalization.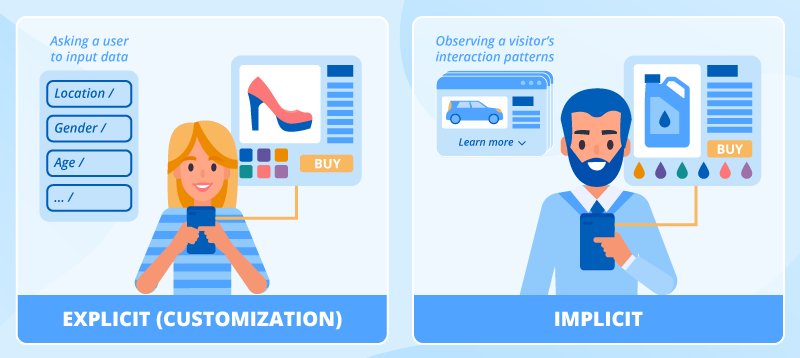 scnsoft.com's - personalization vs customization
While customization is when users are given an interface where they can choose a desired set of features. For example, websites show product recommendations based on customer data, preferences, history, user input, etc. While Product Configurators provide the customers with the power to choose their desired product features. Product Advisors on the other hand provide personalized recommendations based on the many different needs of your customers. Take a look at these examples from Brother and Vaude.
Minimalism in design and content
Master and Dynamic website
Ecommerce websites have a tendency to go overboard when it comes to product content and design. Minimalism has been a long-standing trend and continues to be so. Too much and it's overbearing, while too little will leave the customer wanting more information. It is essential to hit the 'just right' spot for content and the subsequent design. Product Guides naturally contain this balance as they successfully integrate the relevant information with a minimalistic style. Take a look at these themes for example. At the same time, adopting this kind of minimal style is beneficial for your mobile presence. The Master and Dynamic website is also a good example, its design is minimal, but it provides a good balance of visuals and text.
Product visualization
RayBan virtual try ons
Websites rely on the power of visuals. But these can often be a hindrance, especially if they affect loading speed. It's a bad first impression. While images and videos are important elements, their usage needs to be precise. So, reimagine how you can use your product galleries to solve for experience. For example, RayBan provides a virtual mirror for its customers to try on its eyewear, which is quick and responsive. But it also uses a static image to show the specific shade, thus providing an efficient preview from both sides of the lens.
Representing product information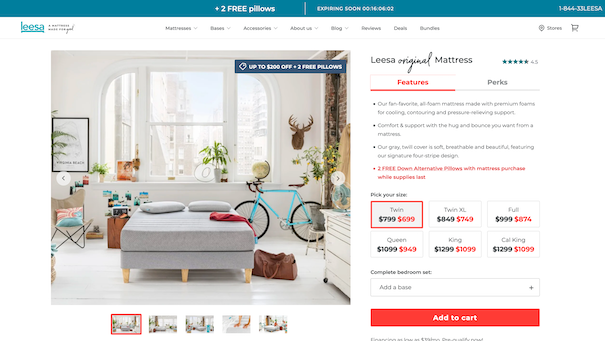 Leesa's product page
A great example of optimum feature representation is Leesa's website. They have many interesting features integrated in the page, e.g. the cross-selling tab to purchase a base for the mattress, every available size and their special prices, a quick list of features and other freebies. They also provide a competitor comparison alongwith user reviews. Every answer can be found on the page and only relevant product data has been used.
excentos' coat finder demo
An AI-driven approach is especially useful here, as it can translate raw product data into a customer-friendly format for product presentation. Guided Selling solutions like Product Advisors help to manage your inventory and product information, as specific aspects can be tracked and measured. Read this blog article to learn more.
Omnichannel functionalities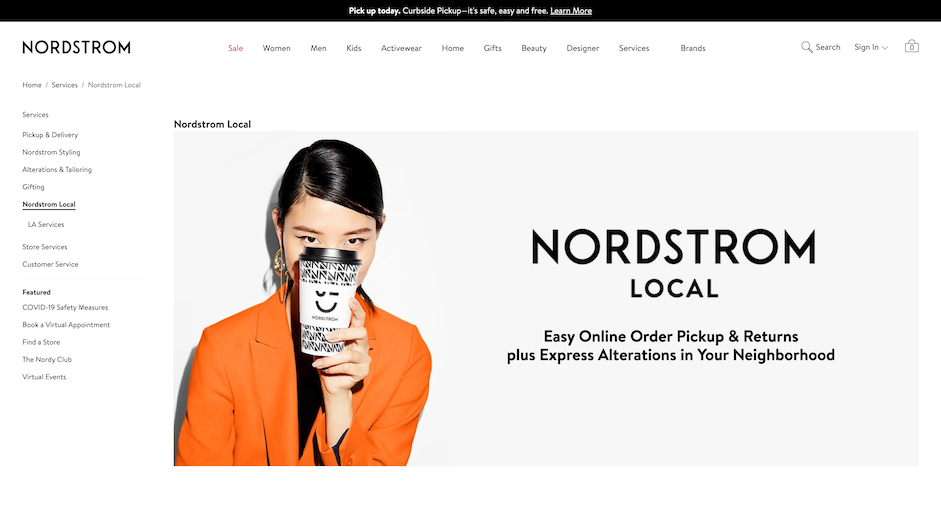 Nordstorm's omnichannel service
There is now a need to operate with an omnichannel functionality in mind as customer behavior and delivery mechanisms have changed. BOPIS (buy online, pick up in store), find in store, local store personalization, etc. are good examples of some omnichannel capabilities. But there has never been a better time to make deliveries and returns easier, as customers are exhibiting cautious buying behaviors. User experience must hence consider the customer journey before, during and after the purchase.
Optimized checkout processes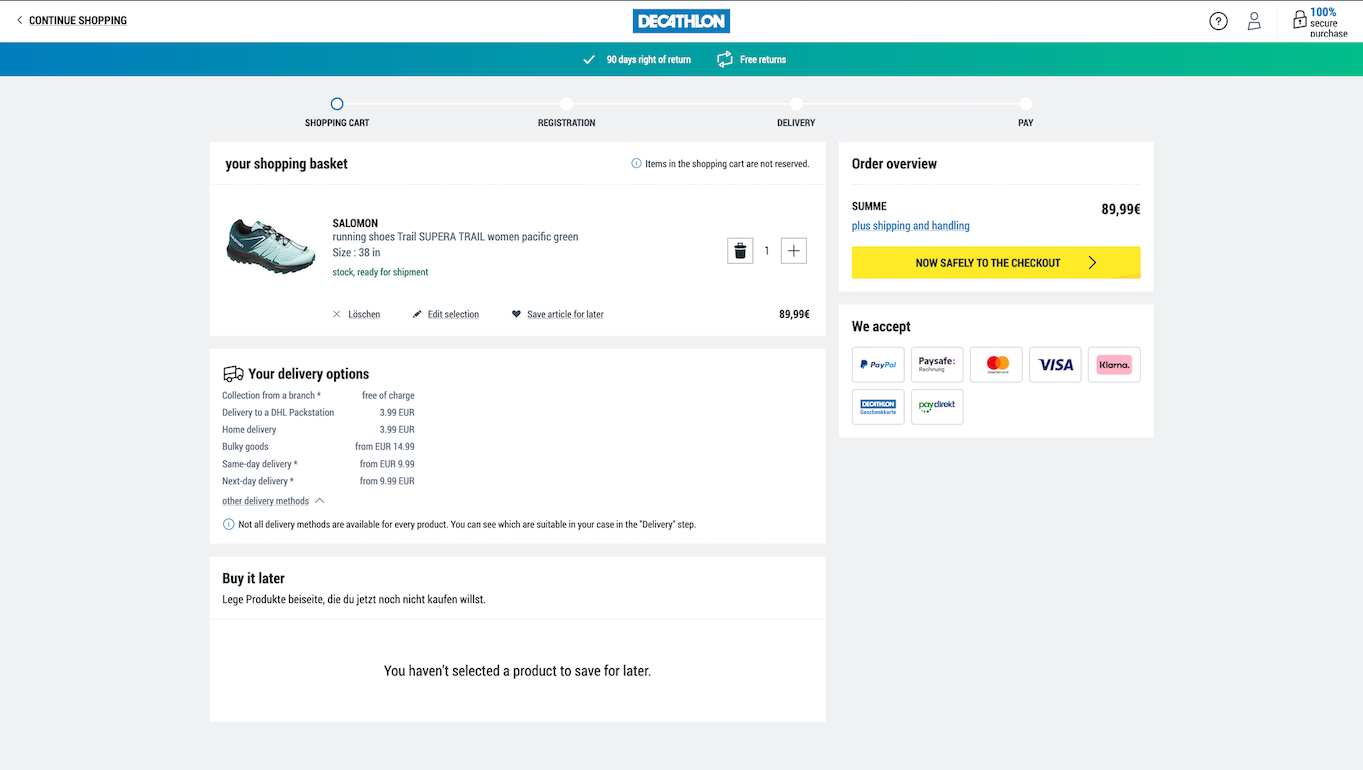 Decathlon's quick checkout
Use hierarchy and breadcrumbs to create an efficient check-out process. Websites also tend to create barriers such as long registration processes during checkout. Presenting such options after a purchase is always a better strategy, at thr same timethere are quicker registration processes available. Voluntary customer registration is far better in the long run as it's easier to establish a transparent relationship. Decathlon has a clean and quick checkout process both instore and online.
AI solutions for UX
AI provides smarter content for users, and more importantly recommends precisely as it analyzes user desires and preferences. It removes barriers between customers and the vital information they are looking for. AI solutions learn and continually track important metrics related to customer interaction. These automated aspects improve user experience, without you having to put additional effort. They are hence extremely efficient and time-saving.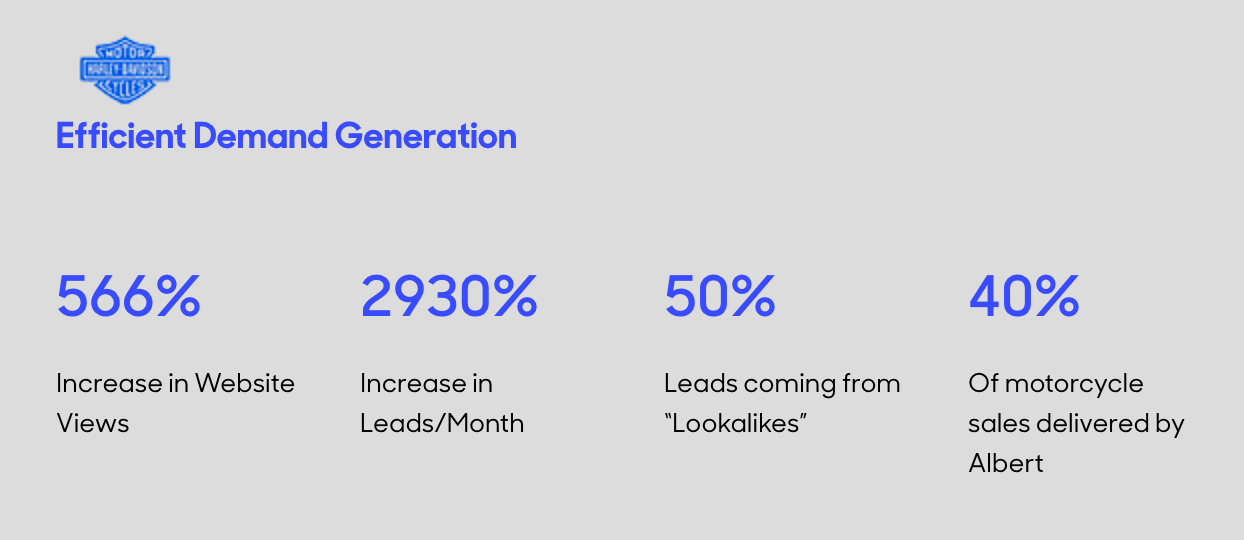 Success of Harley Davidson's 'Albert' campaign
To give an example, Harley-Davidson used an AI marketing solution to optimize their leads and find who their other audiences were. The AI started by analyzing existing customer data and created characteristics and behaviors based on high-value customers. By understanding specific events such as adding an item to an online cart, viewing website, completeing a purchase extra, they were able to create micro segments and crafted marketing messages across digital channels accordingly. In the end, they attributed 40% of sales to Albert (AI) and significantly increased website views and lead quality.
Reinventing the store format
Consumer attitudes have changed due to the pandemic and they will be seeking for more personalized experiences while shopping instore as well. "Coming out of this crisis, we're going to see even more distinction between the idea of going shopping as an experience and actually having to buy something… the shopping experience and buying have become disintermediated," as shared by Pam Danziger — luxury retail expert and author, in this bloomreach podcast.
Glamlab by ulta beauty
Ulta Beauty — a beauty retailer, integrated a try-on experience called Glamlab in its app and website, and also deployed 80 in-store beauty advisors. This allowed them to bounce back from the pandemic disruption by providing a digital solution that worked for the needs of the customer at that time.
Voice commerce is gaining even more popularity: 75% of U.S. households are estimated to have smart speakers by 2025. AR and VR are existing technologies that have successfully been used to reduce physical barriers. Consumer expectations will certainly evolve as we continue to develop viable technologies and reduce digital barriers.
Start building a personalized user experience with AI
With our online platform, the Workbench, you can create a Product Guide for your business in minutes.
Yes, I want a free Workbench account
Start building your first Product Guide
Just let us know a few things to set up your account.
* input required
---
Did you like it? Then share it!