How Product Guides make
online selling easier
Product Guides are sophisticated online selling solutions designed to help your customers find the best products for their needs. In our experience, Guided Selling software is able to do much more as it targets both specific and multiple issues with regard to online selling. We've got great examples of Guided Selling solutions to demonstrate the various problems they help to solve.
KOS Klima Product Configurator
KOS Klima provides customers with air conditioning solutions and hence cater to different types of needs. Their customers often face long wait times and have to schedule appointments to get any kind of service. But with their Product Configurator, they are able to immediately provide customers with a helpful and informative response.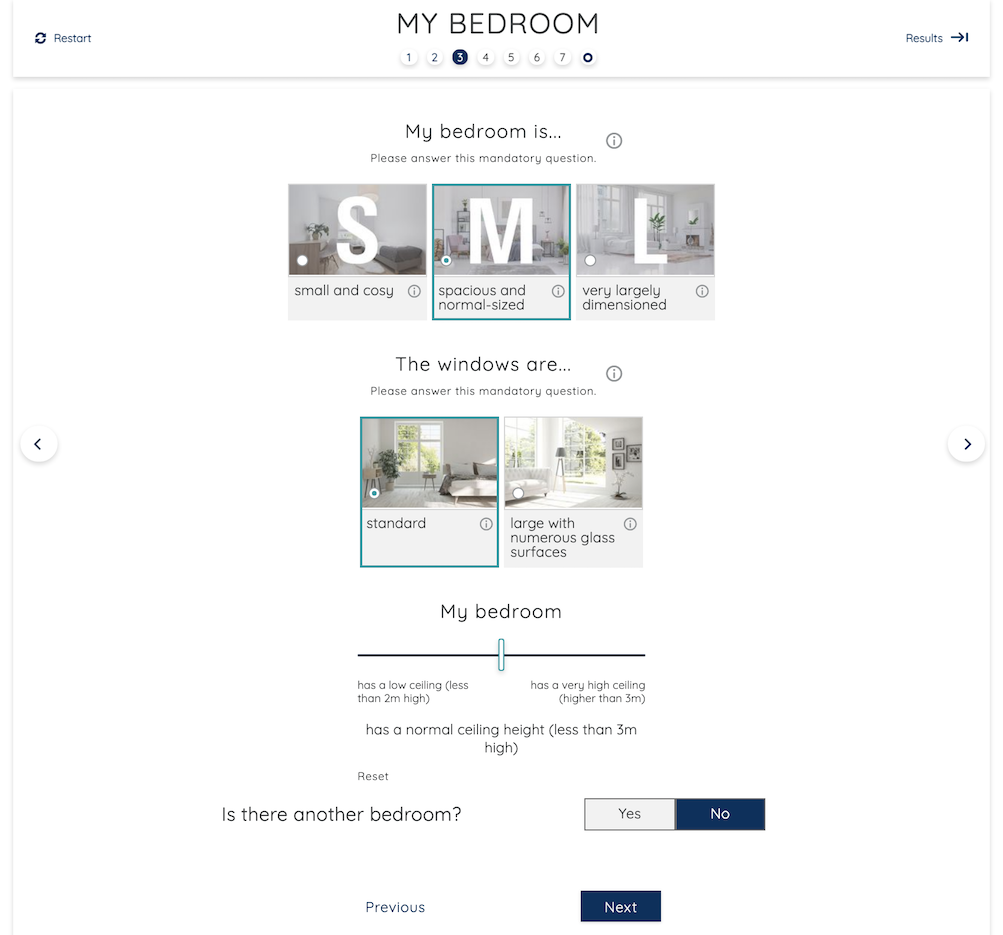 Address difficult configurations and customizations
Air conditioning is tricky and complex as each space comes with a different layout (interior and exterior) and different dimensions. Each project hence comes with its unique requirements and customer preferences. But the KOS Klima configurator bundles all of these different needs and dynamically calculates the price accordingly.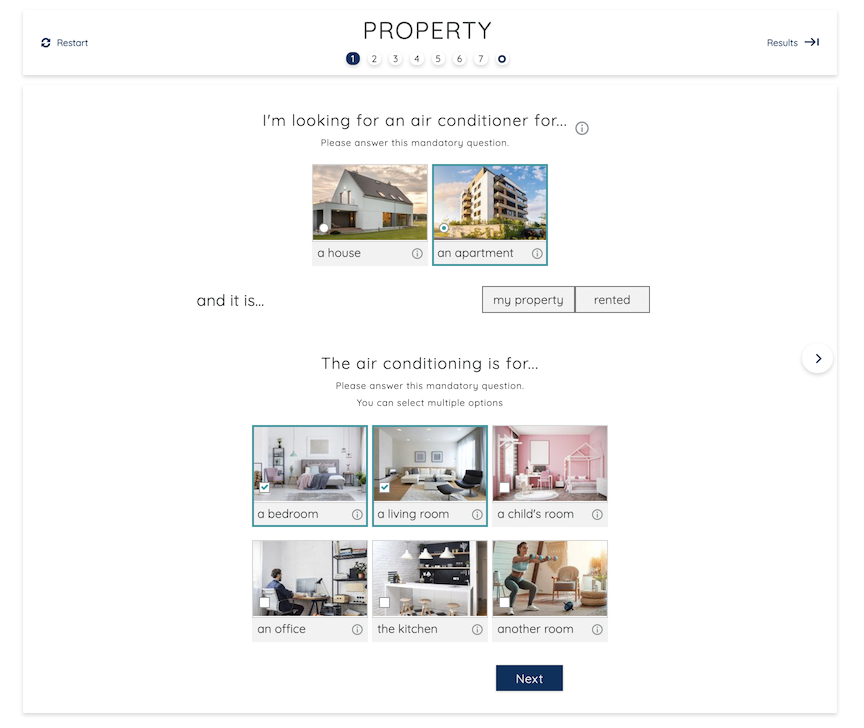 Reduce the complexity of customer requests
The KOS Klima Product Configurator handles a dynamic and complex range of customer needs, reducing the need for multiple inquiry calls. It provides a systematic process from the beginning to help build a potential relationship with a customer.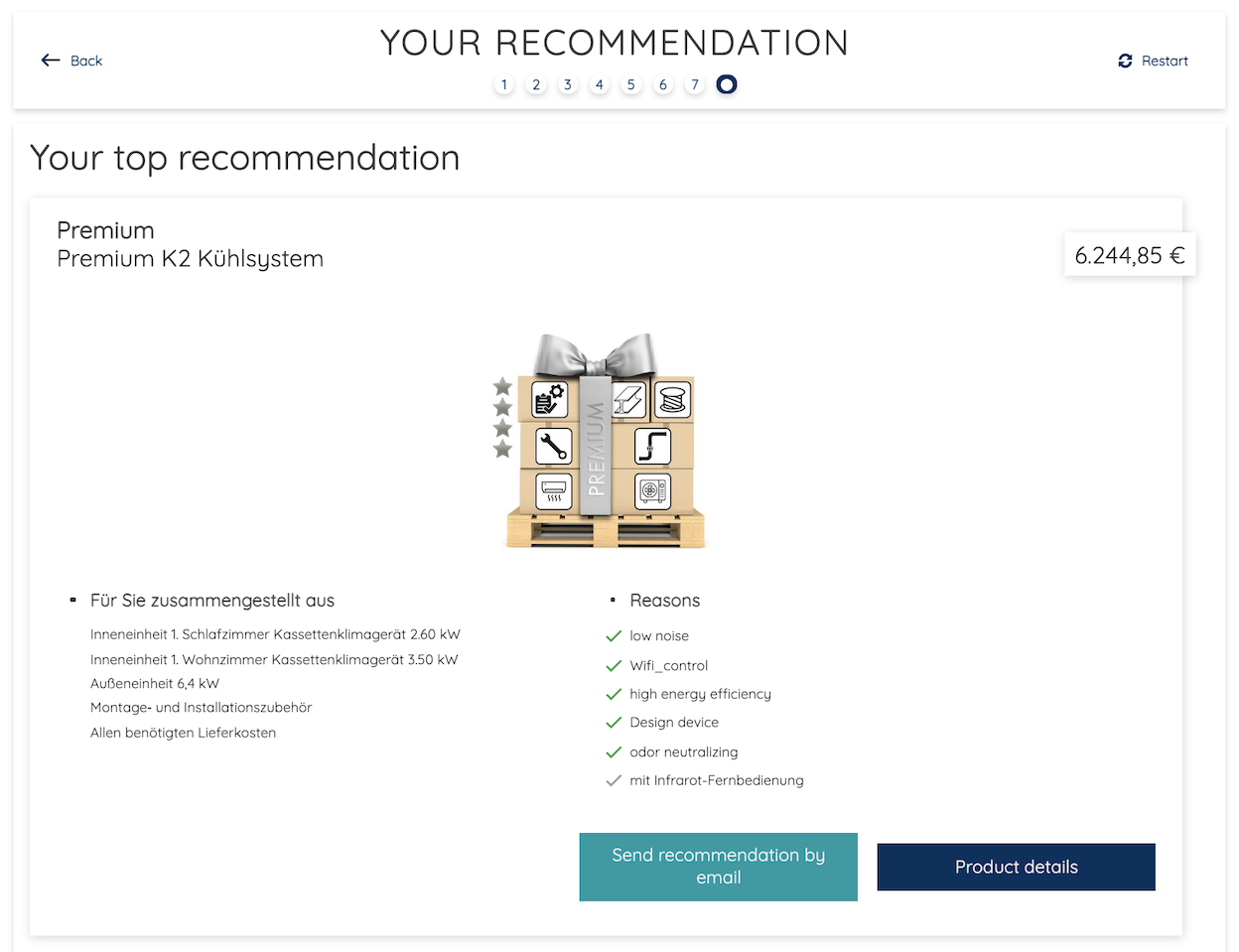 Improve the quality of customer experience
This Product Configurator has been built by utilizing expert knowledge and experience. As every customization facet is addressed, it is able to acquire multiple requirements within one session.
Customers also have options to upload images of the space to precisely define their requirements. This saves valuable time for the customer as well as the business, improves customer experience and the quality of the final quotation.
Laufen.de Product Advisor
Laufen.de are experts when it comes to anything in the arena of running. Naturally, their expertise and knowledge required a methodical representation online. They wanted to address the many pain points that they know customers go through, while trying to find the right kind of running shoes.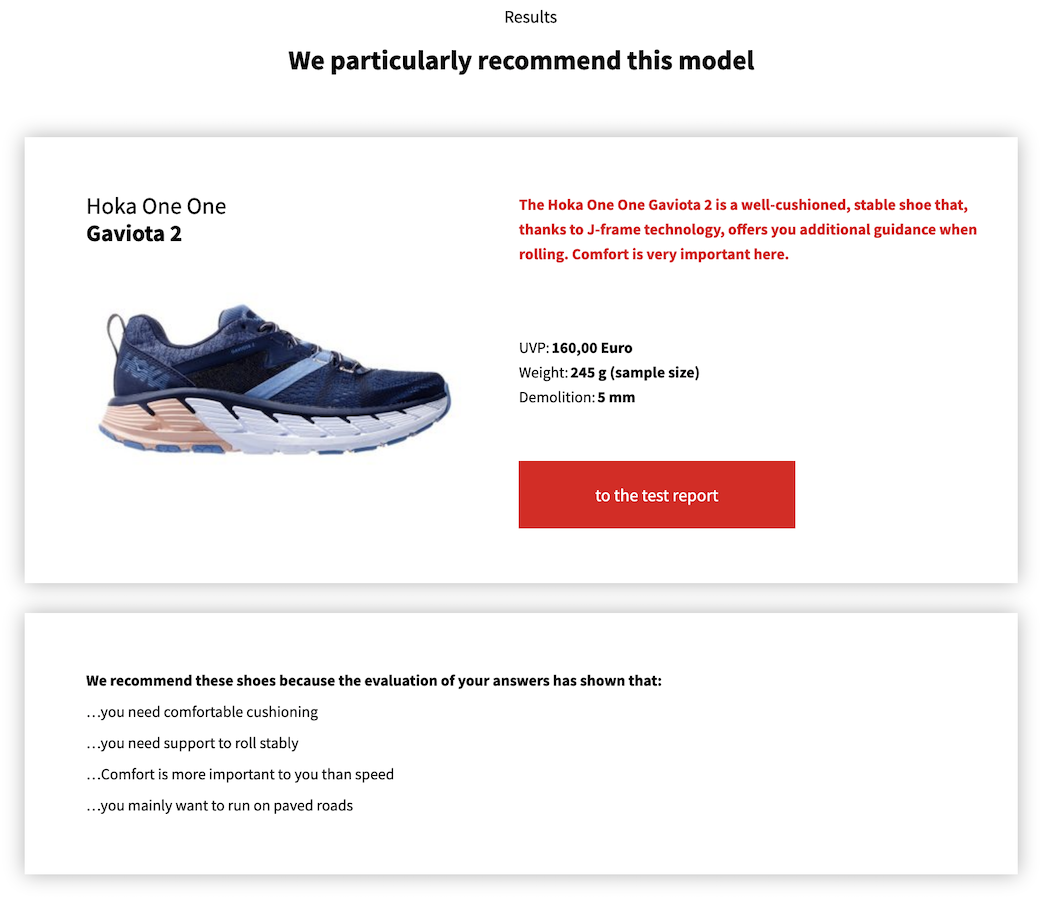 Establish product expertise
With so many resources online, it becomes difficult to establish or even present your knowledge and expertise. Product Advisors are perfect to solve this because they let you integrate your personal knowledge to establish domain authority.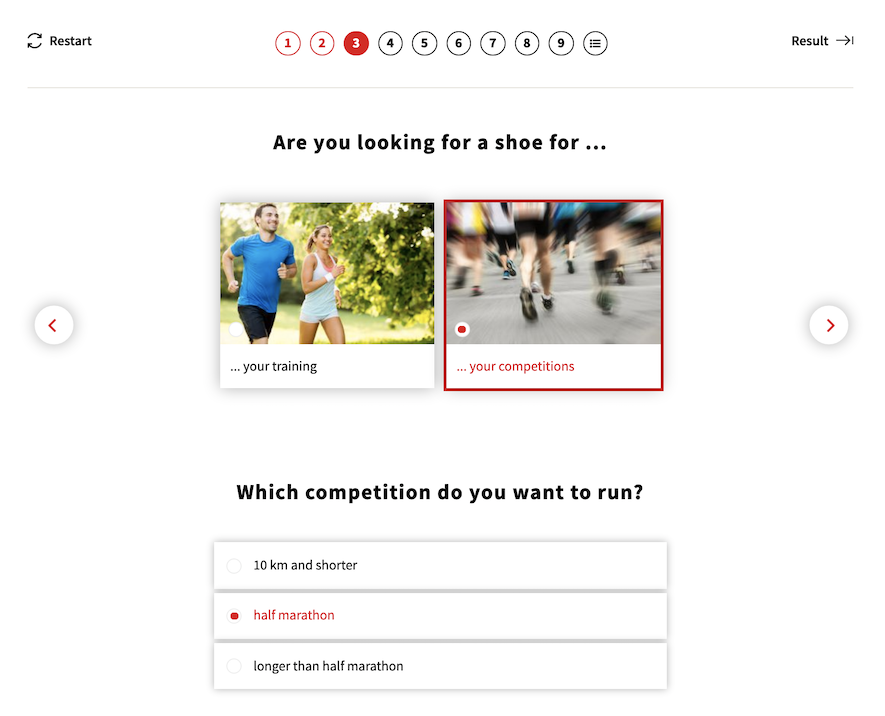 Assess customer habits and goals to provide personalized advice
This Product Advisor truly helps a customer by assessing habits and events, e.g. injuries, pronations, etc. It also wants to understand their running goals to recognize the level of personal achievement an individual is aiming for. This ensures that the right use-case is met in every category of need. E.g. It would recommend a particular shoe for someone who wants to go trail running 4 times a week, with a tendency to over-pronate their right foot and has a certain budget in mind.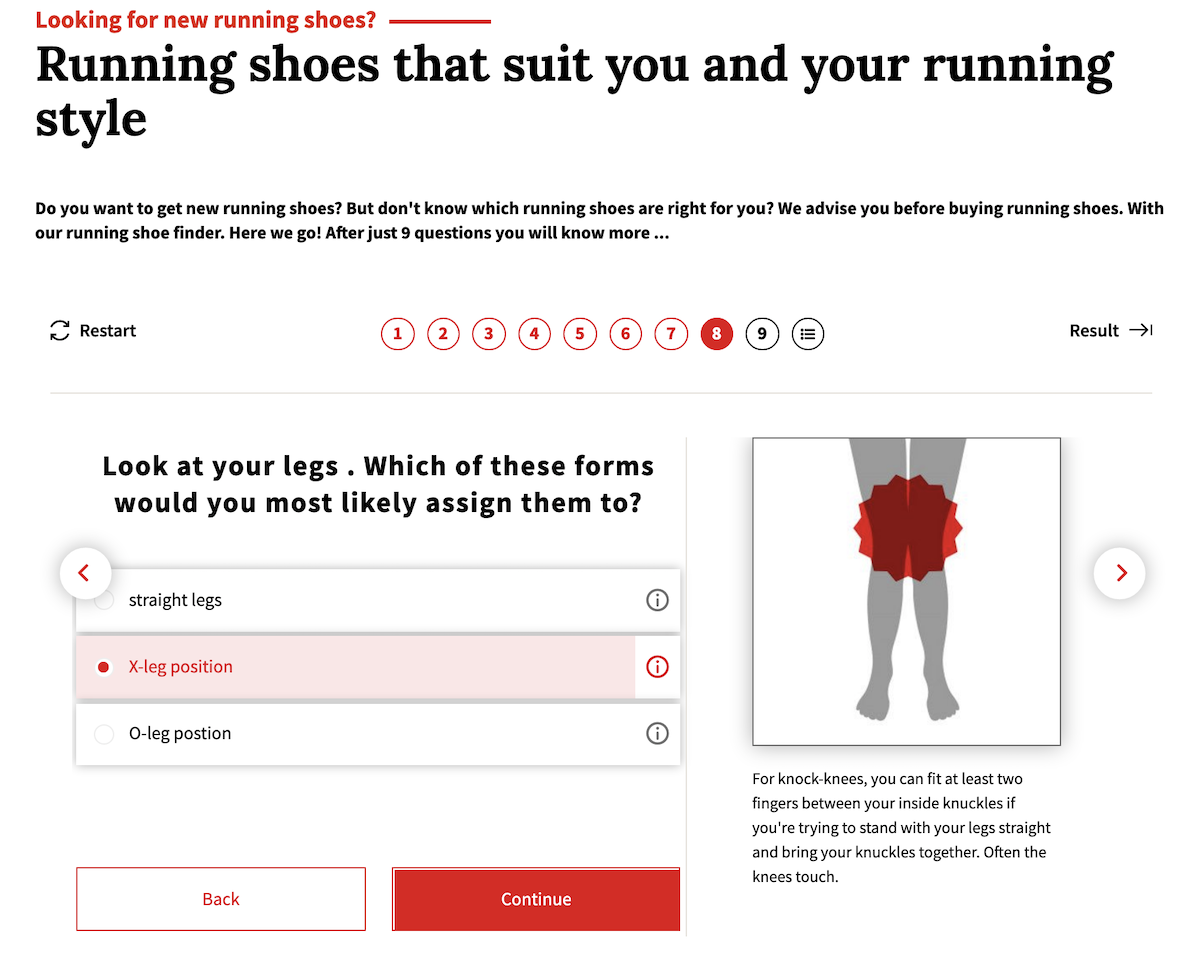 Help decision-making
The characteristics of a product and the individual needs of a customer vary. You can find several running shoes that may match what you are looking for, but Product Advisors work to perfectly match these two purchase factors. They provide the best option or solution with a thorough reasoning for the recommended product and hence give the customer a logical push towards a purchase decision.
ABUS Product Finder
ABUS has an incredible range of high-tech security products for mobile properties. They have a varied inventory of bike locks as they differ in terms of technology and the intended use-case. Hence, one can find different sub-categories of their products, and customers may or may not be aware of the applications of each.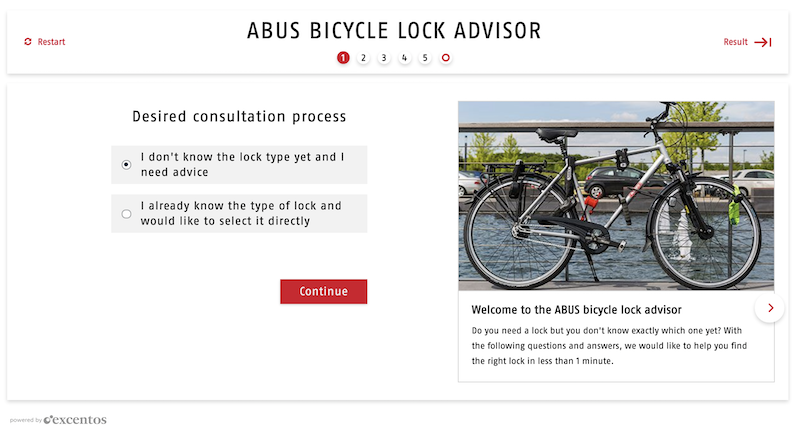 Advise customers with different levels of product knowledge
Customers are self-aware and do conduct online research to find out more about products. But with certain product categories, there tends to be a mixed bag. They have various degrees of product knowledge and hence do not have a clear understanding of their own requirements. Product Guides can address both the knowledgeable customers and customers who have a limited understanding.
This Product Guide assesses the risk, usage and value of a bike before providing recommendations. A customer with limited knowledge would perhaps not consider such parameters before looking for an optimum bike lock.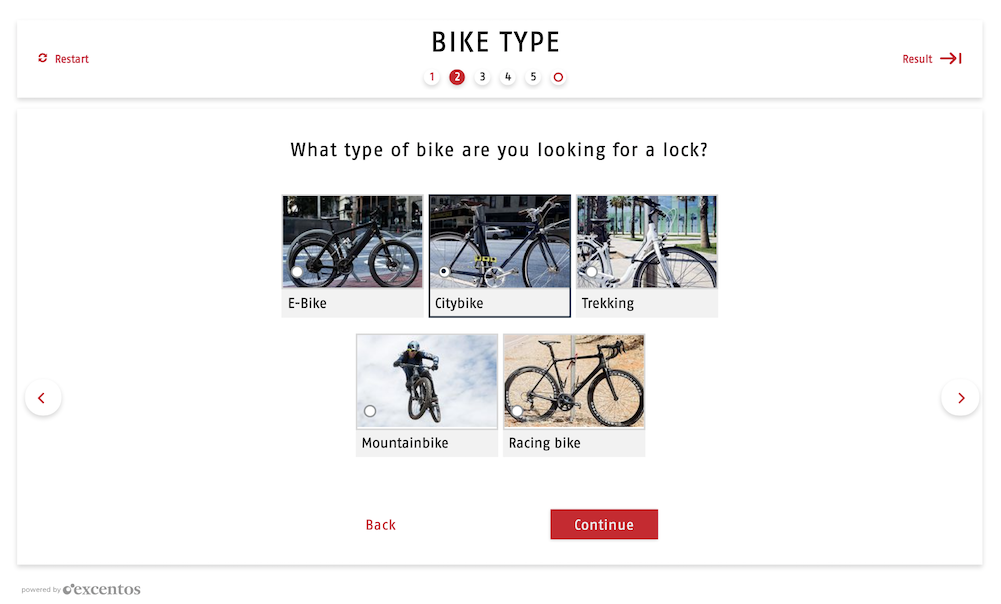 Manage sub-categories of products
Certain products have several sub-categories and this makes it harder for the customer to find the right kind of product. E.g. ABUS has locks which work with different mechanisms and thereby have different advantages.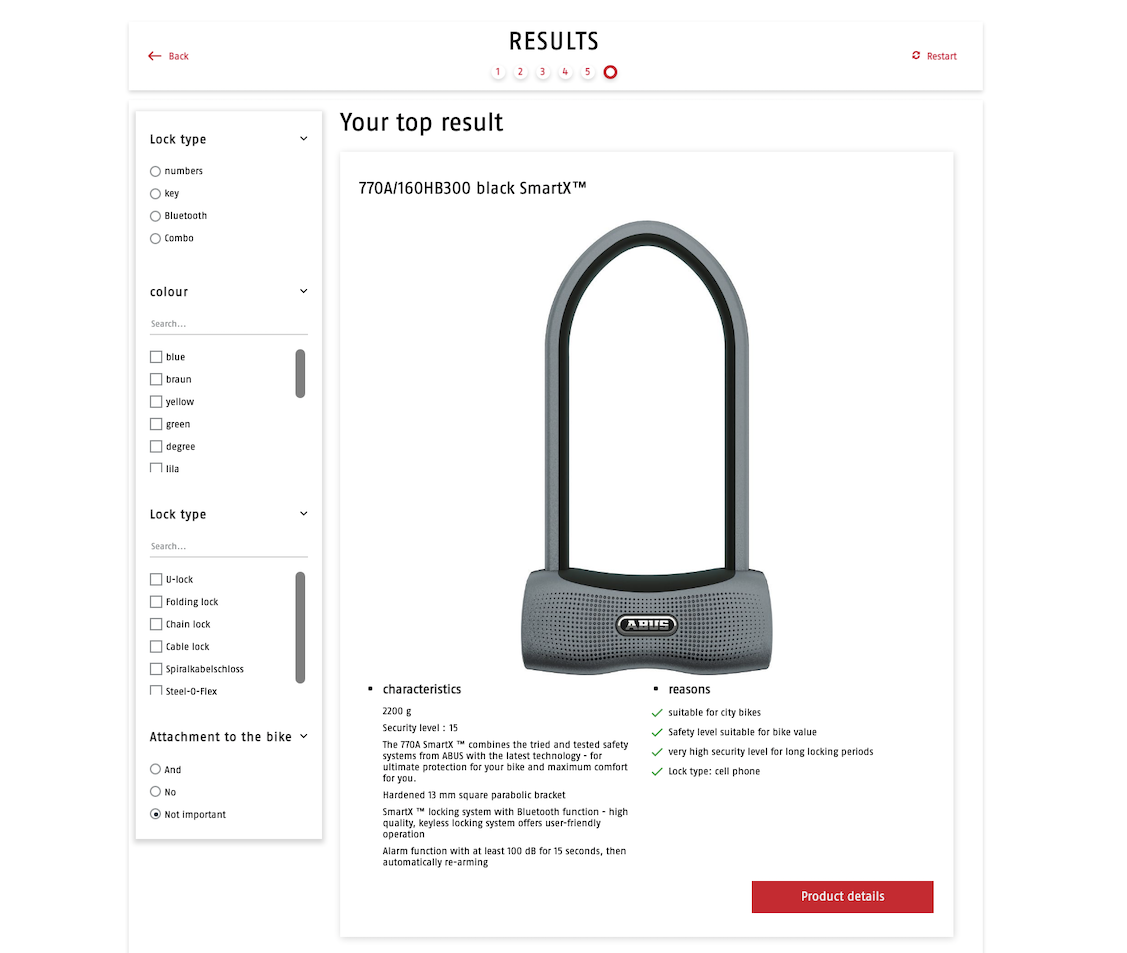 Promote new product types and innovative features
Product Guides also allow you to seamlessly promote new types of products as well as their innovative features. E.g. ABUS has digital and smartphone locks for the more tech-savvy customer. Similarly, based on your marketing and sales goals, you can also target holidays, promote special discounts or offers, and tease customers with upcoming products.
As we have seen from the examples above, Guided Selling solutions are useful tools that can solve a variety of online selling problems. But understanding where the problem lies is an important first step towards improving your online presence and selling. Along with this, marketing and sales goals are also essential determinants to choose the right form of a Guided Selling solution.
Yes, I want a free Workbench account
Start building your first Product Guide
Just let us know a few things to set up your account.
* input required
---
Did you like it? Then share it!