Gift finders: Personalize the process of buying gifts online
Customers prefer online purchases
Gifting is a ubiquitous phenomenon during the holidays and many customers now pre-order and buy gifts from the comfort of their homes. Have you ever considered that with so many options for gifts, the number of decisions one has to make also increases? Let's also take into account that a person might have an idea of what they want to gift, but they don't have a particular product or brand in mind.
But customers are also savvy and possess more knowledge about products than ever before, some already know what they want and the kind of product that would prove to be a good gift. In this case, the decision has been already been made. But yet there are two online opportunities to consider:
How do I help customers make a decision they are happy with?


How do I guide them to reach that decision quickly?
What are Guided Selling-based gift finders?
A gift finder is an interactive website tool that uses Guided Selling to help customers skip the exhaustive parts of searching for a good gift. It is helpful to ensure that website visitors do not bounce off of your relevant pages. As gift finders guide the customer to a perfectly-matching gift, they automatically increase visitor retention as well.
Brands and retailers alike find gift finders useful for customer interaction and experience, especially for the holiday seasons. They offer several advantages for online customers:
A gift finder is an ideal solution to compare different kinds of gifts and get alternative recommendations.


Customers get decisive advice from AI-based recommendations, thereby increasing buying decisions.


Online shoppers expect swift and useful digital interactions and gift finders fit the bill perfectly.


You can target different kinds of customers with a single interactive experience by integrating different stages of awareness within one gift finder.


Gift finders also take into account your expertise input. So, by using your personal insights you are able to deliver gifting options which stem from human intuition and experience.


Brand case studies
As with any Guided Selling solution, gift finders use a systematic process to understand the nature of your needs. It's not just about finding a product that fits your needs, but to find a gift that is suitable for a particular person. Look at how brands have used gift finders successfully:
L'Occitane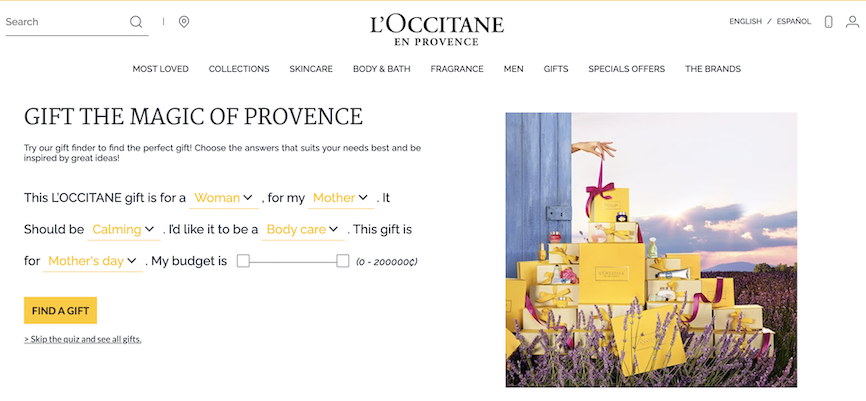 L'occitane gift finder
---
This gift finder is incredibly simple and specific about its target audience. It so easily and quickly encapsulates all the necessary details in a single page, e.g. gender, relationship, the effect the product should have and most importantly - the budget.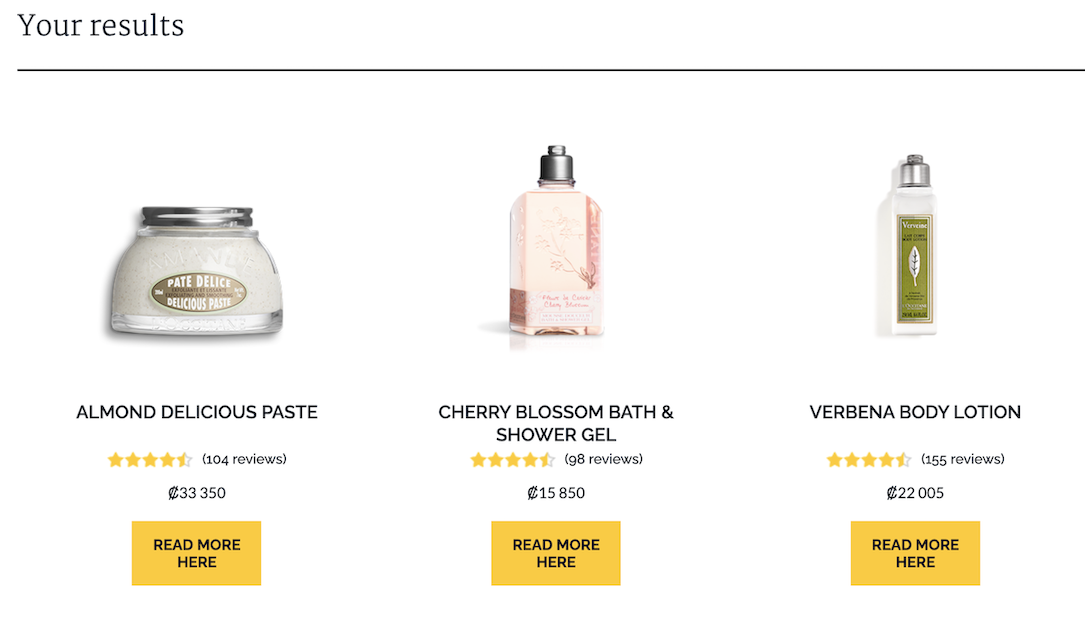 L'occitane recommendations
---
Based on these simple details, it is able to quickly provide recommendations with excellent reviews that fit within a person's personal budget. A person can also select a certain product category, e.g. if requested, the gift finder will only display recommendations of the brand's top perfumes.
Smartwool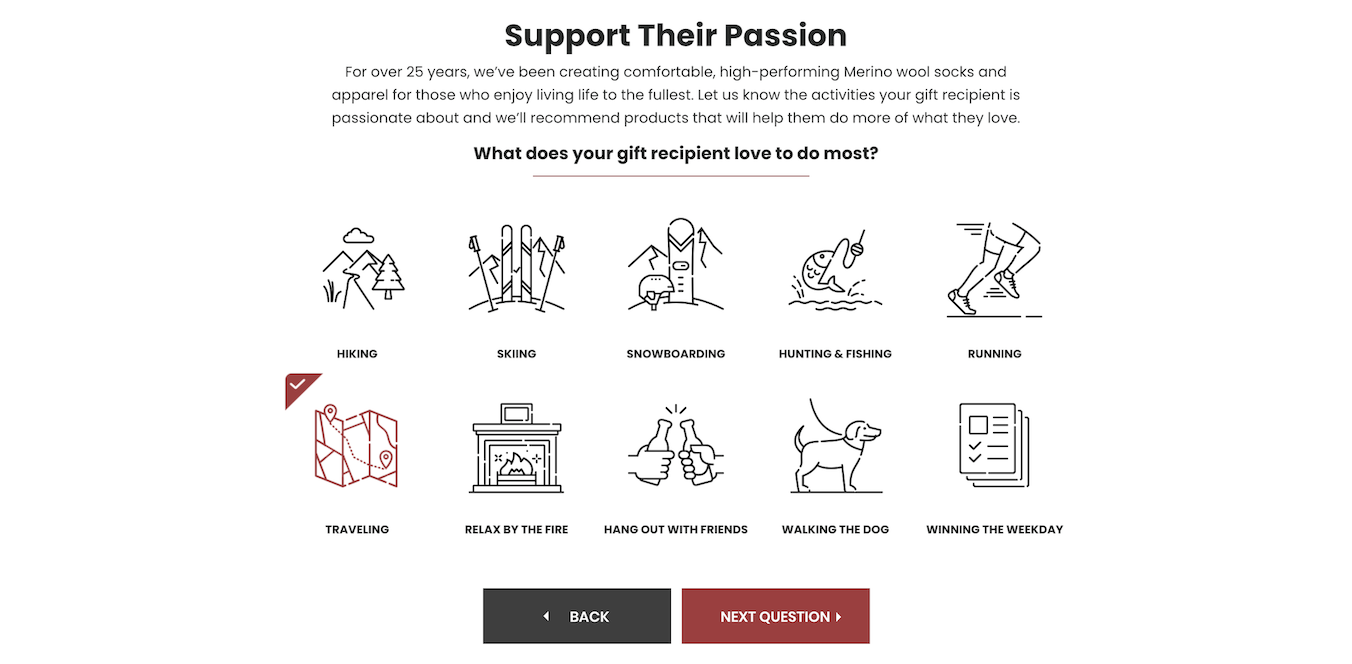 Smartwool gift finder
As the name suggests, Smartwool is all about wool specifically suited for outdoors and performance durability. They have a pretty big range of products and hence they use a gift finder to target the holidays. This brand smartly combines seasonal needs with passions, hobbies and successfully personalizes the customer journey.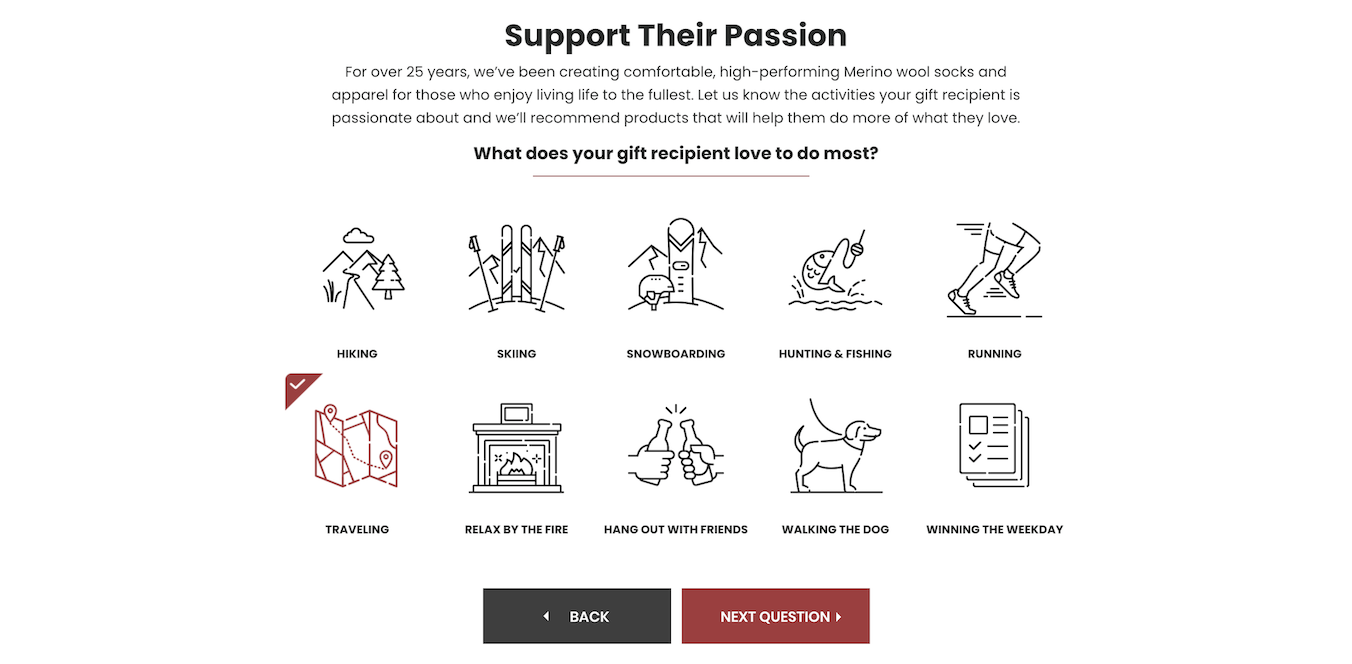 Smartwool recommendations
Gifting something that supports a passion is more thoughtful than the average woolen scarf, and this is the central concept used here. The gift finder also allows you to select a budget and the kind of features that would be preferable for the intended person. By doing this, they are able to seamlessly integrate their product technologies and other notable features.
Uncommon goods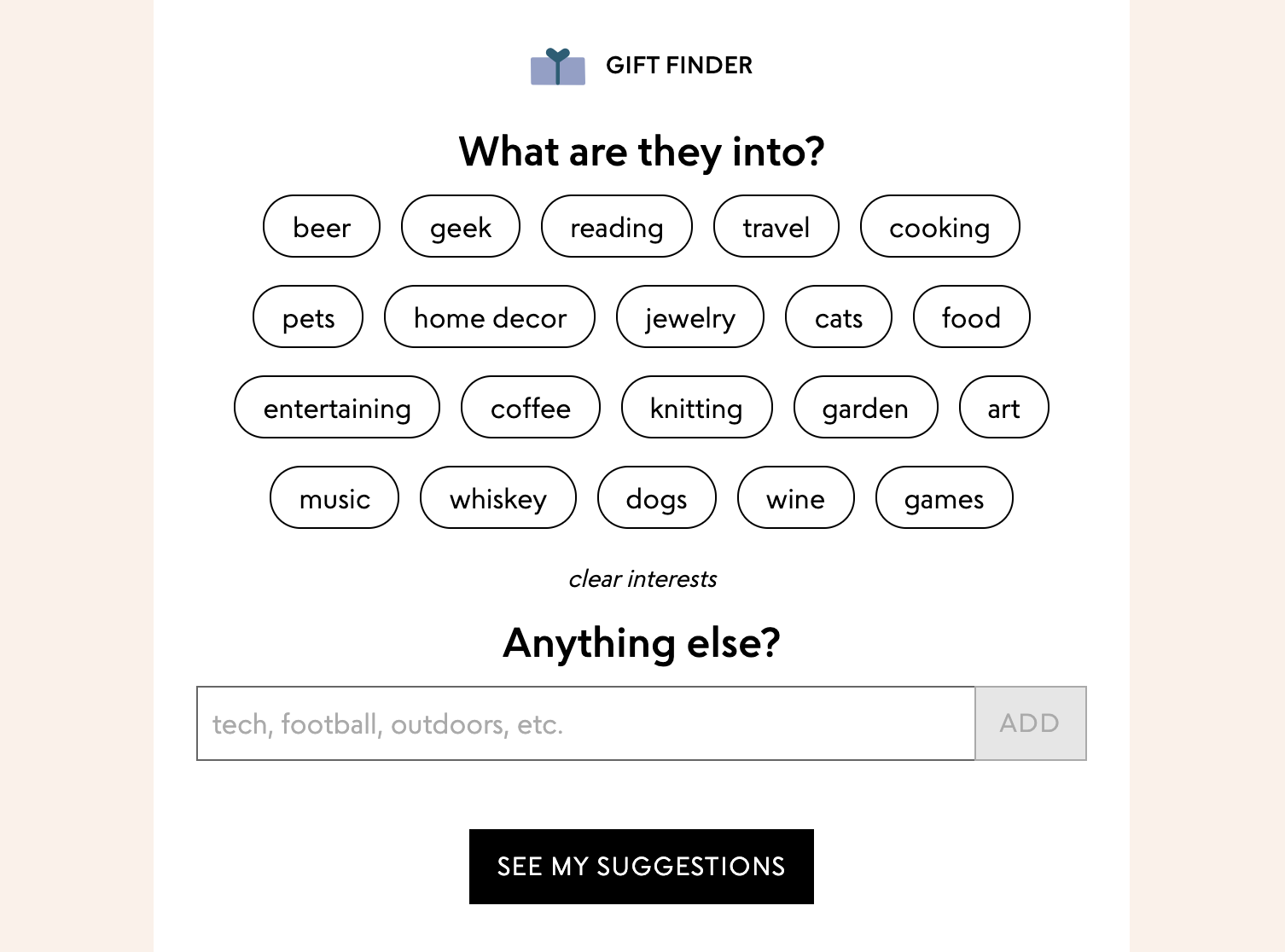 Uncommon goods gift finder
---
Uncommon goods is a website based entirely on out-of-the-ordinary or peculiar gifts. Hence, the gift finder they use is special as it takes into account the personality of a person. It uses keywords to easily capture a person's passions, hobbies, interests etc. One can also manually add keywords describing a certain personality into the gift finder.
Uncommon goods recommendations
---
The concept is to gift something extraordinary and special, yet something that matches the tastes and interests of the intended. In this context, the products themselves are not regular, but unique enough to be matched to certain personality traits and the recommendations ensure exactly that.
Invest in Guided Selling
Gift finders are always a useful tool to target holiday seasons, but as you can see from the examples above, gift finders are not exclusive for holidays and are flexible enough to be used in a variety of ways to target multiple customer segments. This also helps brands and websites to target seasonal traffic in a consistent and organized manner.
So if your product categories do well during gifting seasons, then a gift finder is definitely the way to go. They are easy to integrate, manage, and provide benefits like customer satisfaction, increased sales, decreased returns, and more importantly - customer insights.
Our solutions use sophisticated AI-driven technologies to provide a seamless integrated experience across digital channels as well as in-store. If you're looking to enhance customer experience for your brand or website, investing in Guided Selling software is beneficial in more ways than one.
---
Did you like it? Then share it!