How do B2Bs advise their
online customers?
The complex nature of B2Bs sometimes proves difficult to represent online. Their customers do carry out online searches and there is also the possibility of far too much information being available. In short, information needs to be organized in a way where a quick resolution is met. A customer at times also requires multiple points of contact in their product journey, providing them with support at every step. Take a look at three B2B case studies that use Guided Selling software to successfully lead their customers through this difficult customer journey.
Jungheinrich simplifies the product journey for its customers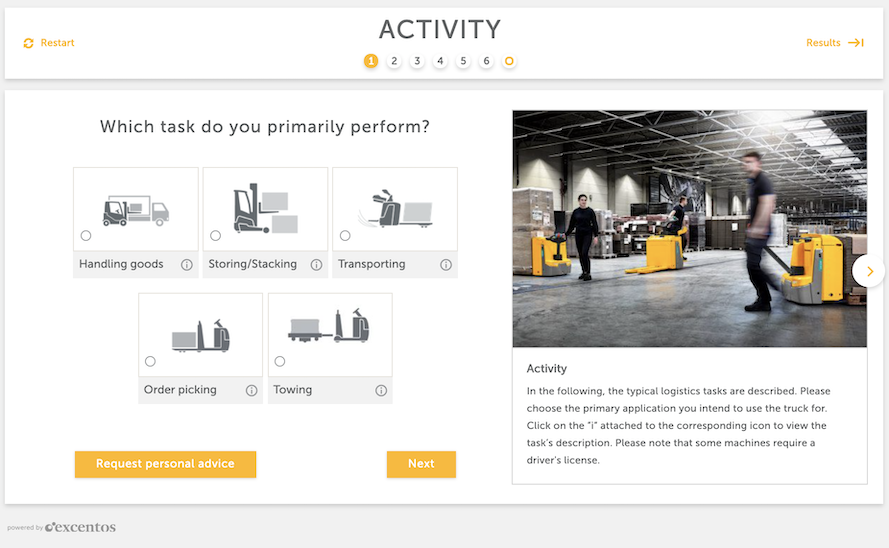 Jungheinrich forklift advisor
Jungheinrich has a diverse portfolio with extensive experience in logistics systems and services. As their forklifts have the ability to provide various permutations and customizations for customers, they required an advice system that could address every kind of customer query, no matter thei extent of product knowledge.
Notable advantages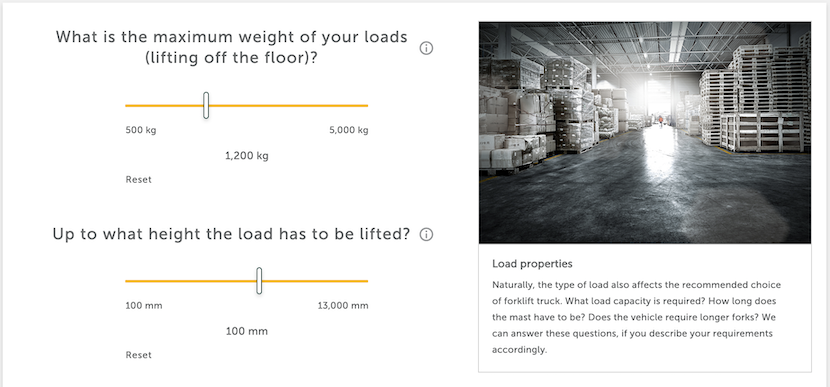 Height and weight mapping
---
During the consulting process, customers only answer questions that they can answer with confidence. At the same time, they are informed about the product and the various advantages it provides. In this way, the Product Advisor is able to dramatically reduce the complexity of application and guides each customer to a well-founded purchase decision.
Tedious calculations such as the dependence of the lifting height and the weight of the load, are calculated by the system and conveyed to the customer in a user-friendly way using a slider.




Environment configuration

---

Customers always have the option to get personal advice at every stage.




Jungheinrich forklift recommendations

---

It also lets customers select between purchasing a new forklift or a used one, as well as simply renting one.
This Product Guide is used in different markets and has been translated into several languages such as Deutsch, English, Danish and Dutch.
Brother uses a cost-driven transparent approach for customers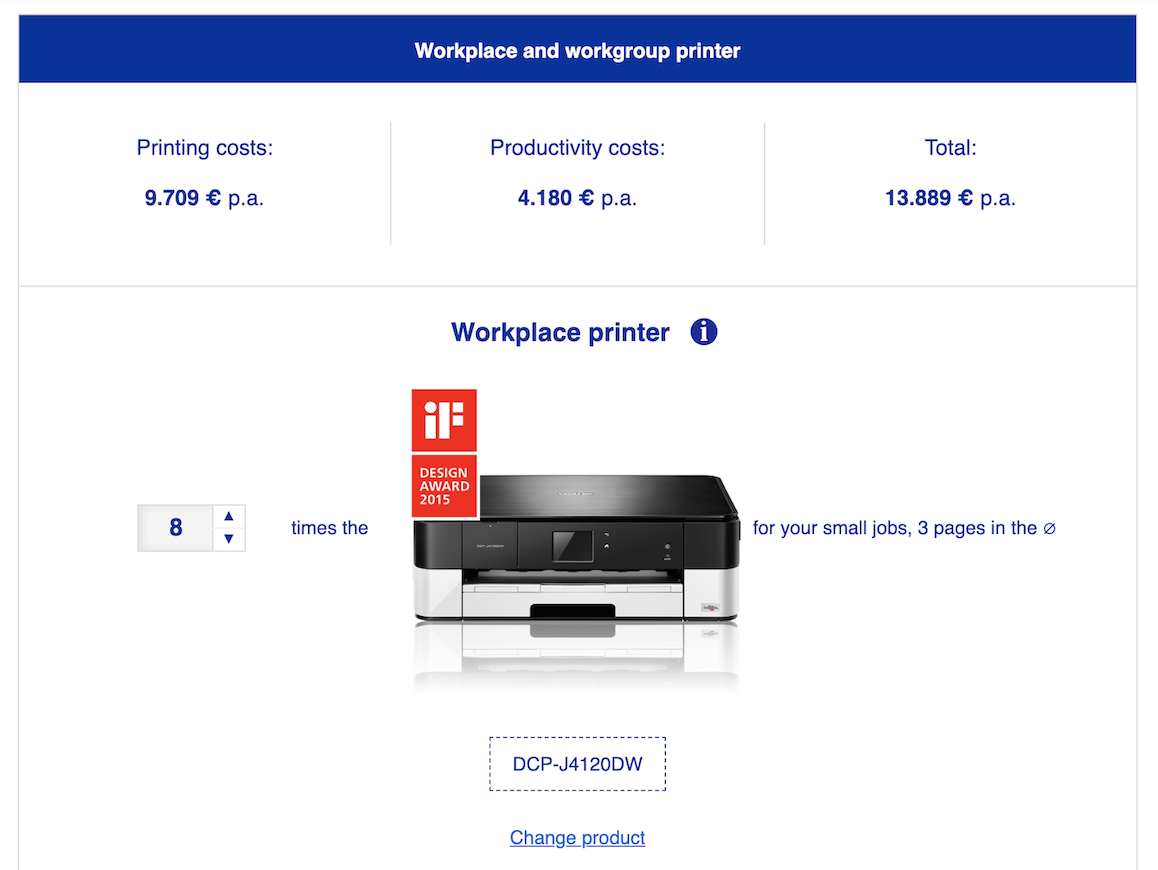 Brother printer setup cost analysis
Brother produces electronics that are quite often used in offices, and hence have to cater to a huge B2B audience. Their product range includes printers, multifunction printers, desktop computers, label printers, fax machines and other computer-related electronics.
A specific problem with providing information for such electronics is that they can get quite technical and complex. The requirements of B2B customers could be even more complex because they have to consider factors such as size, volume, sustainability, efficiency, etc. This can turn out to be a costly affair, therefore Brother wanted to provide a tool specifically for printers, that would consider all of these factors and give the customer a cost-based recommendation.
Notable advantages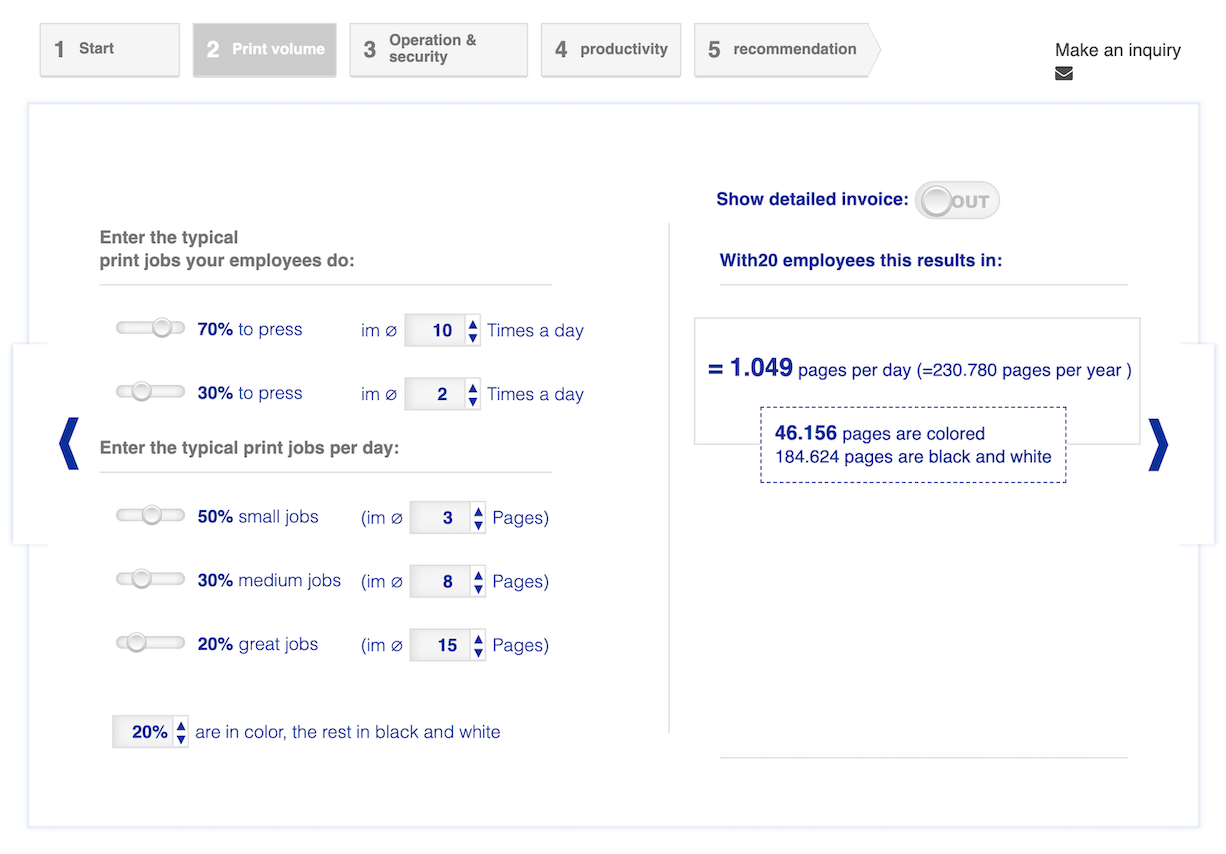 Print volume estimation
---
The Product Guide uses estimations to get an idea of printing volume and subsequently provide the most sustainable option. It considers the size of the office environment in relation to employee productivity.




Explanation content

---

As it uses Guided Selling it is able to give relevant explanations during various points of the Product Guide.




Recommended printer strategy for environment

---

Brother addresses real purchase consideration factors of their customer: How much do we need? And how economical can we get?
This is a good example of a design that successfully integrates the brand and concept presence.
The Product Guide asks all necessary questions within 5 stages.
Heroal gives quick product recommendations to targeted customers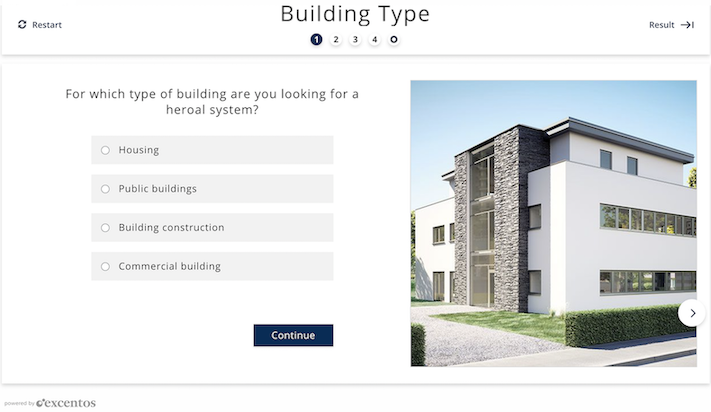 Heroal aluminum systems
Heroal is a leading manufacturer of aluminum system solutions for roller shutters, sun protection, roller doors, windows, doors and facades. They are a market-leading company and use aluminum from recycling cycles as well as renewable raw materials. As they are a customer-oriented company they use a Product Finder to help their customers to quickly find a solution that fits their needs.
Notable advantages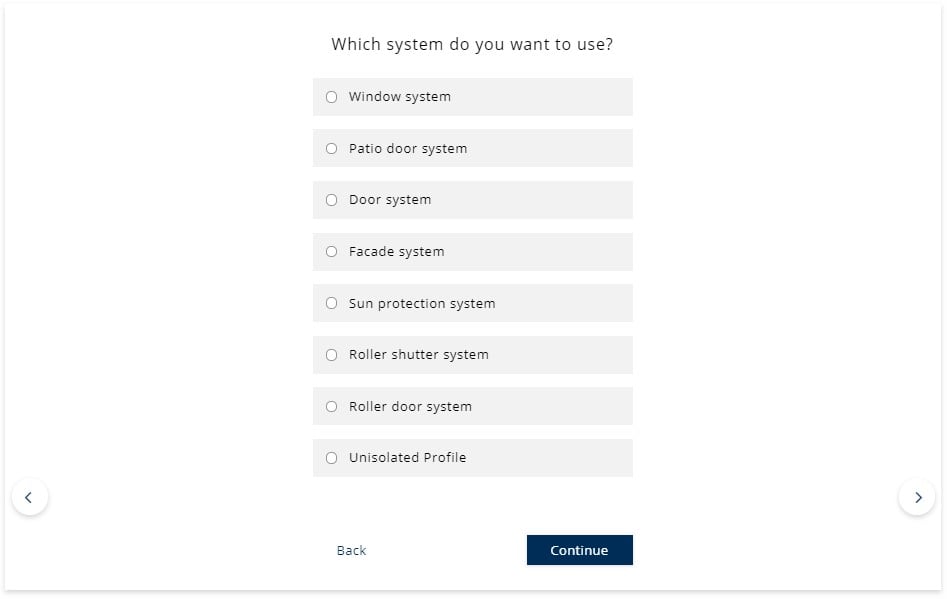 Type of window and door system
---
The Product Finder is to-the-point and addresses a vast section of applications within one stage itself.
As the answer options are specific, the Heroal Product Finder is able to provide precise or optimum recommendations to their customers.




Performing features

---

A customer can find an optimum product quickly and in a couple of minutes.
This particular Product Finder is aimed towards a customer who has existing knowledge about such systems and hence targets a specific type of audience.
The design reduces the complexity of the concept while simplifying the information.
The Product Finder asks all the necessary questions within 4 stages.




Heroal product recommendations

---

All recommendations are displayed with the reasoning behind them, giving the customer complete transparency.
B2Bs now have various options to improve website experiences to provide potential customers relevant information in a truly useful way. But there is often a tendency for them to be difficult to represent online, meaning that B2B solutions might be complicated and vast to explain efficiently. Guided Selling recommendations provide several benefits such as targeting the right audience, building a customer-centric experience and providing the necessary information to make informed decisions. Hence, Guided Selling software such as Product Guide are an optimum solution for B2Bs looking to improve their online presence and customer support.
---
Did you like it? Then share it!