A short guide on Guided Selling
What is Guided Selling?
As the name suggests, Guided Selling is an online sales process that helps customers to find the right products by providing them with product recommendations. These solutions normally use AI and Machine Learning technologies, and such Guided Selling software is used for B2B and B2C Ecommerce. Data-centric digital selling mechanisms provide amazing customer insights over a period of time, but there are many more advantages. Let's look at the different kinds of Guided Selling solutions and their capabilities.
How does Guided Selling software work?
Product Guides ask questions to understand a customer's needs, and based on the answers, it then recommends products. Hence, Guided Selling software uses selling expertise and product knowledge, and takes a digital form of a sales representative. Guided Selling software is AI-driven, it not only uses data but gathers valuable insights throughout the entire purchase process. Product Guides are based on the central concept of selling through advice, which works well for both B2B and B2C. They are efficient selling tools that provide a transparent layer between the customer and the product. Due to their inherent nature, they enable the customer to make up their mind and instill a level of confidence in their purchase decisions.
What kinds of Guided Selling solutions are available?
Guided Selling enables brands and retailers to create online buying guides for customers. Guided Selling solutions systematically ask questions to customers and recommend suitable products based on their needs. Although their basic functionality remains the same, Guided Selling solutions come in different forms. The most notable examples are Product Guides, Product Advisors, Product Configurators, Product Finders, Product Selectors, Product Quizzes, and Gift Finders.
Guided Selling software is used by both B2Bs and B2Cs
The main purpose of Guided Selling is to provide the online customer with transparent advice. For B2Bs, it's often about providing a valuable source of information that can answer customer queries, especially for complex products, and develop enough interest for top-quality lead generation. Whereas B2Cs and Ecommerce sites, use Guided Selling to instill trust in the customer's purchase decision. It's a quicker search process that gets the customer to the best-suited product, along with other recommendations. There are other features that come under the Guided Selling umbrella such as product comparisons, reviews, PDF and lead generation functionalities, etc. Guided Selling solutions such as Product Selectors and Product Configurators help to configure complex products and offer many product variations. This improves user experience as they are interactive and constantly keep the user engaged.
Best examples of Guided Selling solutions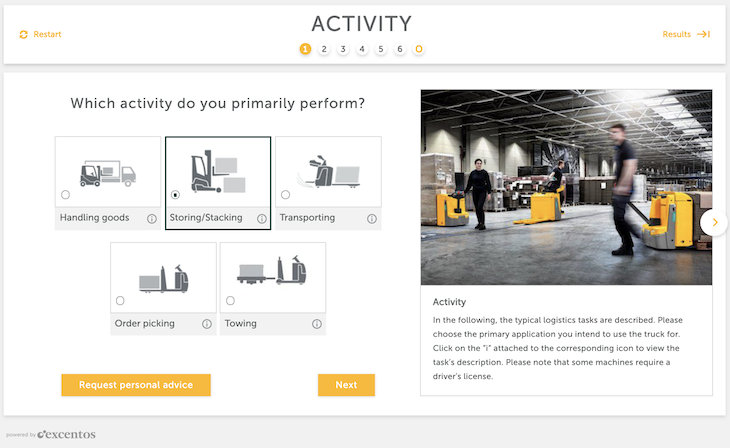 Jungheinrich Forklift Guide
Product Advisors and Product Guides:
B2Bs can successfully use Product Advisors to simplify their services and solutions online. The Jungheinrich B2B Forklift Advisor easily translates technical complexities by using a Product Advisor. Guided Selling hence gives a lot more room, and you can integrate personalized advice, quotes, PDF and lead generators, etc. at important stages of the advisory process.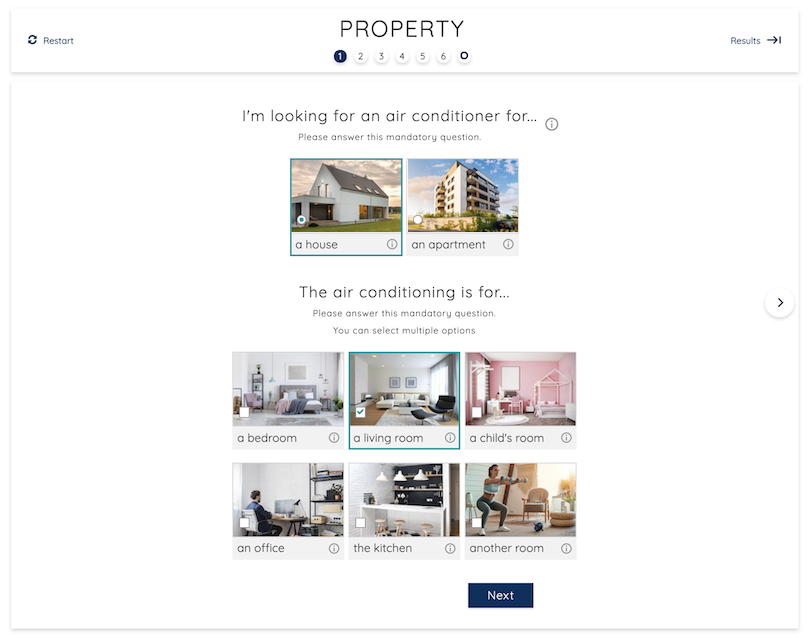 KOS Klima Product Configurator
Product Selector and Product Configurator:
KOS Klima successfully uses a Product Configurator to simplify a complex query process and provide a digital tool for recommendations and quotes. This is another example of creating a user-friendly interface for customers seeking solutions and services online. It encompasses multiple and customizable criteria and leads the customer step by step towards the best recommendation as per their exact requirements.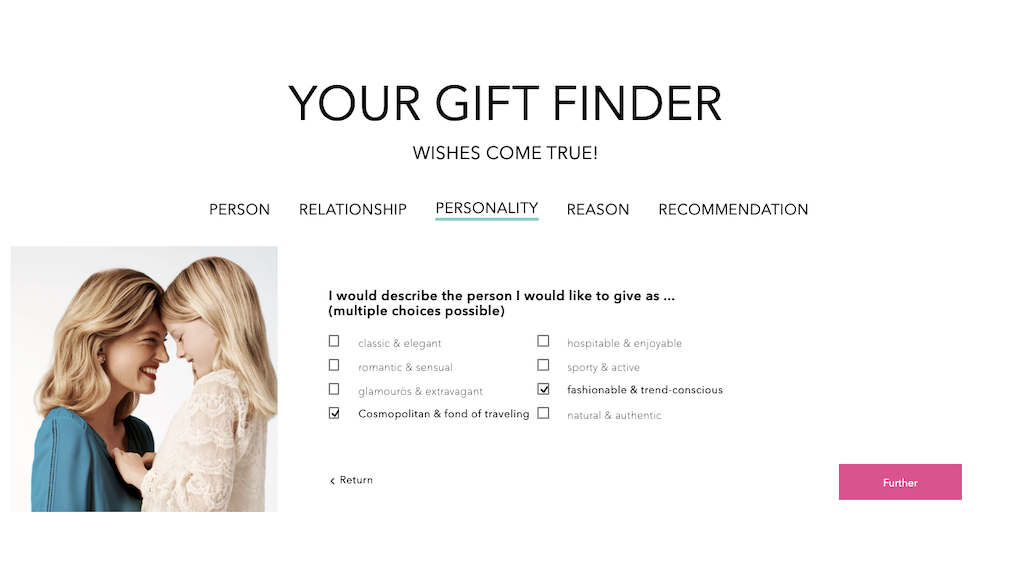 Douglas gift finder
Gift finders and product quizzes:
Retailers and brands, both, use gift finders and product quizzes, when the user is not sure of which product would make for the perfect gift. Gift finders are directed at a specific target audience and are a good tool to target holidays and special occasions. The Douglas gift finder does exactly this. It integrates personality traits and relationships to find a suitable product recommendation.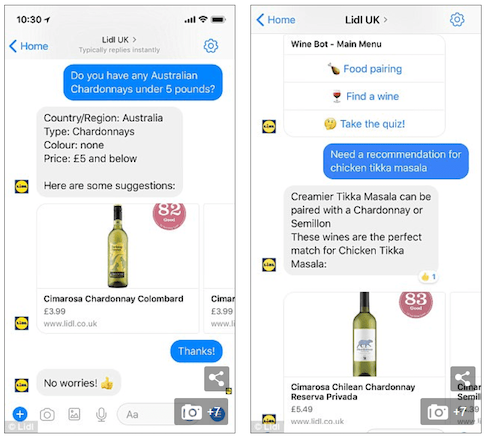 Lidl UK wine bot 'Margot'
Chatbots:
Chatbots are helpful digital assistants that help brands sell more online. They are available 24x7 and can advice the customer on a variety of queries. In this instance, Lidl created a bot to advise its Facebook customers on the different types of wines, the food they are paired with and of course budgeted options.
Advantages of AI-driven Guided Selling software
AI-driven solutions in a nutshell are great at recognizing patterns and trends in your sales process, thereby increasing revenues. Machine Learning in particular makes your sales processes smarter and more intuitive. These solutions are of course designed to use data to improve product recommendations, and while this may seem difficult at the beginning, there's much more you get in return. The insights churned out by Product Guides and Advisors, come directly from customers, there's no second-guessing involved. As Machine Learning is used, they constantly keep learning and improving upon the product recommendations.
Product Advisors let you know which of your products are more valuable, differences in target groups and regions, seasonal trends, Ecommerce revenues, etc. Insights even lie within the Product Guide itself, as you know which questions have more priority for customers. Our signature AI Data Trainer, also lets you relabel the characteristics of products, turning their features to a more user-friendly connotation for customers.
---
Did you like it? Then share it!