Our services for your success
excentos combines the know-how of experienced consultants with Europe's leading
Guided Selling Platform.
You want the full-service? Or only support and training for your Product Guides? excentos provides exactly the services that want and need.
---
excentos services for your Product Guide
Conception
Your best sales experts go online
We ♥ your products!
And we use this passion to create the ideal concept based on your customers' needs and your product's features. Ensure that your customers find the right product and make a buying decision.
Consulting
Well-advised
Our experts know how to present your products convincingly. We develop value proposition, sales strategy and product presentation. We conduct Mystery Shopping and define the recommendation strategy. We only stop, if every customer finds the right product.
Support
Sell more. Without trouble
We will support you with the usage of our tools and backends, with online trainings and will provide regular status reports. For everything else you can directly contact our technical support team.
Implementation
Made by Pros for Pros
The implementation of your product advice and product search tools is carried out by our specialists. This way we make sure to get the most out of your product data, user experience and recommendation behaviour. Your customers will notice the difference - as will your shopping cart.
Data management
We get the most out of your data
Due to our tools for data preparation and data processing and a multitude of content partnerships, we are able to create perfect product data as basis for excellent Product Guides - fully automated.
User
Experience
Simplify complex decisions
excentos does not only provide intelligent recommendations, but ensures a real online shopping experience for your customers. Therefore, we design the Product Guides, gladly in cooperation with you, from responsive, to instore, to mobile applications.
Online marketing
More Traffic. For your Products
We support your SEO and SEA campaigns and help you with onsite marketing and success monitoring, so that the Product Guide increases the traffic on your website.
Optimization
Permanently increased Conversion
Human sales experts continuously learn. So do excentos Product Guides - reliable, data-driven and verifiable. For even better recommendations and greater sales success.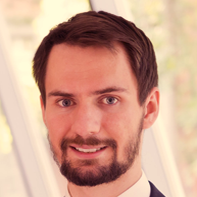 Michael Smolka, Project Implementation
"Thanks to our extensive experience gained in countless projects we have perfected our software tools for the development of Product Guides and recommendation behavior."
How does excentos Software-as-a-Service model work?
excentos operates all Product Guides as a 100% web-based service.
Our Product Guides can be easily integrated into your website and do not require any additional IT infrastructure.
100% SaaS
Software-Service
provided by excentos
flexible scaling
0% IT
No IT.
No Worries.
No dependencies
excentos services enable you to provide expert sales advice directly on you website. Easy to integrate and immediately ready to sell more.
What you Get
Trouble-free operation, 24/7,
No compromises
Powerful Software-as-a-Service (SaaS):
excentos operates and hosts the Product Guides for your shop/website.
You do not have to worry about anything
Top Performance:
excentos-SaaS delivers recommendations in a few milliseconds
Operation and maintenance from a single source:
excentos operates your Product Guides and updates your product data,
prices and availability. This way we ensure that your Product Guides are always up-to-date.
flexible API:
the high-performance API provides the recommendations and can be connected to any other kind of applications.
What you Save
You take care of your business.
excentos sells
No IT required:You do not need any hardware or software. You configure the exentos-SaaS easily in the excentos Backend.
Free updates und upgrades without license fees. : You benefit from the continuously developing excentos technology and receive free upgrades and updates. You do not pay any license fee but only the monthly service fees.
You do not require any manual updates: excentos updates the product data daily (or more frequently). Therefore, you do not require any manual update of your product data. Irrelevant if you have 20 or 100,000 products - the update is fully automated.