A faceted search that online shoppers love
An effective search is the basis of every online sales process.
Empower your customers with a convenient and user-friendly tool when searching for their product.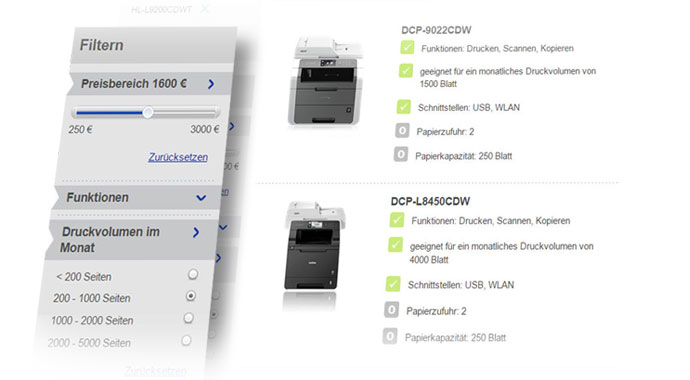 Ensure that every customer finds the right product!
excentos needs-oriented faceted search leads every customer to their ideal product quickly and without prior knowledge of the product range. Don't risk thinking that your customers can find the right product independently


excentos' intelligent faceted search offers numerous advantages over other standard searches used across many e-commerce websites:
Intelligent recommender logic and recommendation behaviors. Exactly like the Product Guide, the faceted search also includes 'needs-orientated' features making it more user-friendly.
Recommends alternative products. Different from classic filter tools, the excentos faceted search is able to calculate which products suit best, as well as offer alternatives should no product meet all requirements. This avoids empty results lists and abandoned shopping carts.
Precise and accurate recommendation behavior through matching logic, ratings and business rules.
Convincing reasoning and the configurable display of data attributes per product increase certainty in the results list.
Dynamic user interface which provides a top shopping experience. Also includes fully responsive support.
Powerful data processing: our powerful data tools take the best from your product data and thereby even allow product searches with unstructured attributes.
All behavior (from dynamic data connection to the recommendation behavior) can easily be configured in the Workbench.

If customers are disappointed by the search function, 80% leave the website, (Jupiter Research) and 75% never return (Forrester Research).