Channel Solutions
Integrate your Product Guide into websites of your affiliates.
Your revenue is not only driven on your brand website?
Then boost sales in your partner's webshops and affiliate websites or with Instore Solutions at your retailer's stores.
The channel solution allows you to increase your sales revenue and connect your retailers with your brand by providing excellent product advice and customer service wherever it is needed.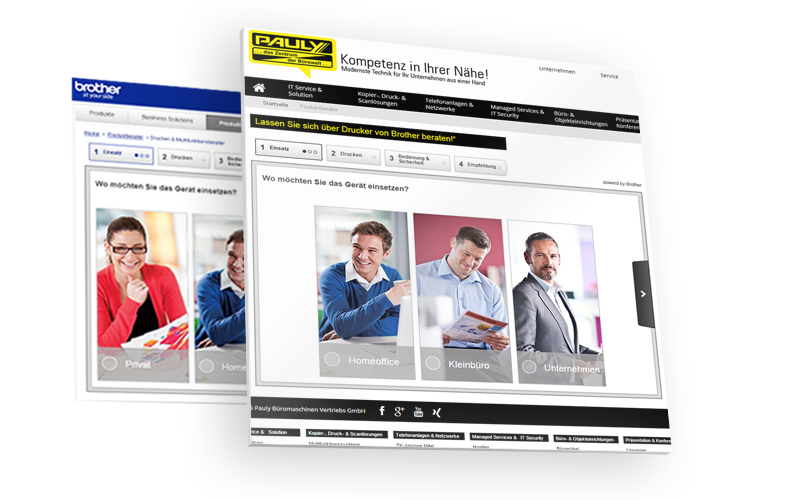 With the excentos channel solution, your Product Guides are integrated into as many digital contact points in the buying journey of your end customers as you like.
The contact points can be e.g. brand websites of every market, partner webshops, affiliate websites, comparison websites and many more. You and your channel partners will benefit from higher revenues, and additionally, increase retailer loyalty.
Better content and convincing buying arguments at every point of decision
The channel solution allows you to streamline the sales of your products at every point of decision:
your high-quality product content: the Product Guide displays your product content, product images, buying arguments and marketing message
be present at the point of decision: your customers decide at many different touchpoints. The Channel Solution connects you to your end-users, even if they typically don't visit your website
strengthens retailer loyalty through value-added for your retail partners - both brands and retailers benefit from increased sales
effective sales promotion for all sales partners: dynamically run product promotions or sales campaigns across the entire sales channel
gain consumer insights: learn about purchase needs and preferred products by powerful Web Analytics data that provides insights about every end user interaction
Examples and further info
Control your channel solution in the powerful excentos Workbench
You can control most settings of the channel solution in the excentos Workbench so you have extremely easy access to all content, recommendation behaviour and basic settings of your Product Guides.
You can combine a central control of all basic settings with a de-centralised approach of letting localization or even configuration freedom to your brand or regional / market managers or even the channel partners themselves.

There is no limitation to the number of Channel Partners and excentos offers a flexible pricing scheme to make your rollout easy and effectively.
The channel solution helps you to provde accurate and always up-to-date product information since excentos automatically pulls your central data feed and, if needed, each channel partner's data feed (e.g. for prices and availability) as often as you like.
Additional options for the channel solutions include
you can use all features of internationalization and rollout, such as providing different data feeds per channel partner, using different themes or styling per channel partner and everything you need to adapt a Product Guide to another sales channel
adapt price and availability per channel partner
adapt product images and product names per channel partner
allow your channel partners to integrate a custom logo / shop message in the Product Guide
define a different recommendation behavior with e.g. push factors, merchandising rules or even complex business rules
Extend the channel solution with more powerful features
In combination with the excentos
lead generator
, you can also offer an effective multi-channel lead / inquiry management.
And if your retailer partners operate stationary stores, you can provide them with an
instore solution
to make sure your products receive high-quality promotion at the point of sales.
Easy setup and automatic data updates
Setting up the channel solution is extremely easy - you only need to add one standard data feed of every retail partner:
add each retailer's data feed: the channel solution shows every retailer's individual price and availability.

excentos automatically extracts this data from a data feed provided by the retailer. We typically use the retailer's standard shop export, e.g. a CSV feed as used for comparison shopping sites or the Google feed.
excentos then updates the feed automatically to refresh every retailer's Product Guide instance with latest prices and stock data. We can update the feed on an e.g. daily or hourly base
depending on what your retail partners prefer, they can either provide their standard shop export with their full product assortment, or create a separate data feed that contains only the product range to be displayed in the Product Guide
the data feed only needs to contain: an EAN or your product IDs, price, availabiliy (if applicable) and the outlink to the product detail pages in the retailer's shop system

site integration: once the data feed is set up, the retail partner can easily integrate the Product Guide by copy-pasting the site integration code provided to him in the excentos Workbench.
test and go live: you and the retailer can then test the Product Guide right in the retailer's website - and immediately go live