Why a gift finder should top
your Valentine's day list
It is often said that it's the thought that counts and not the gift. But in reality, we all know that thoughtfulness is often measured by the kind of gifts one gives. With each new year a person celebrates holidays, birthdays, anniversaries, new and old traditions, and many more occasions. If we consider the sheer volume of purchases and returns, these seasons bring forth a lot of chaos for shoppers, brands and retailers alike. Online shopping sites struggle with finding new ways to promote themselves, while brands and retailers tend to invest heavily into advertising, promote festive products, and cut sharp deals to get a bigger slice of the holiday pie. Retailers in particular, make as much as  30% of their annual sales during the holiday seasons.
---
As a result, shoppers have it pretty bad as well. Episerver's online shopping report says, that around the holiday seasons, retailers are prone to use fear-based-tactics to provoke shopper worries such as, missing out on the best deal, product scarcity, timed deliveries, etc. These sales-driven strategies work well for shoppers who are aware of products and are looking to buy quickly, along-with a discount and free delivery. But, what about the shoppers who don't know what to buy? Retailers and brands miss out on the most significant insight when it comes to gift shopping, i.e. the number one concern for most shoppers is not knowing what gift to buy. Herein lies the opportunity to give guided selling advice to online shoppers looking for the perfect product.
---
Online shopping has also given rise to last-minute shoppers, as they have come to expect fast and free deliveries. Let's look at a few mobile shopping trends, Adobe analytics revealed that 61% of all traffic for Cyber Monday in the U.S. came from mobile devices and 39% of all ecommerce sales were made on a smartphone.It has also become evident that big holiday sales provide promotional opportunities for smaller players, because smaller online retailers received a significant boost of 32%.
While Amazon remains a popular choice, shoppers will more than often navigate through a brand's website to search for products and their features. As long as websites provide a good customer experience, shoppers will not be shy to buy from lesser known brands or retailers, no matter which country they come from. By integrating a gift finder, retailers and brands can not only provide an excellent customer experience, but also establish a relationship with their customers.
Contrary to the general belief, Valentine's day is no longer about hearts, candies and flowers; in fact, according to the National Retail Foundation, the percentage of American consumers planning to celebrate Valentine's day has gradually decreased over the last 10 years. However, the ones who want to celebrate it are willing to spend more money and were expected to project an expenditure of a little more than 20 billion in 2019. Millennials and Gen Zers are looking for new ways to celebrate and would like to treat themselves by buying an expensive product or indulging in a luxurious experience. This provides an excellent opportunity for brands and retailers to engage with them. The excentos gift finder used by Douglas is a good example of how gifting can be aimed at occasions such as Valentine's day.
---
Douglas customizes its gift finder for Valentine's day:
Douglas is one of Europe's largest beauty products retailer, with more than 35,000 products, which includes perfumes, cosmetics, care products and accessories. The gift finder provides an interface which is user-friendly and interactive. This saves shoppers the hassle of an exhaustive search for gift ideas and confusion-riddled browsing.
The Douglas gift finder first establishes the relationship between the shopper and the gift-receiver. As they truly possess an expertise about customers' needs and products, the questions and answers are conceptualized to target very specific relationships and connections.
It then asks for a little more information about the gift-receiver's personality to take into account personal taste and style. The shopper can select two or three answers to give a variety of options within selective parameters. This is a particularly useful feature for beauty, décor and fashion products. Hence, guided selling is an insight-driven solution that traverses across categories.
Depending on the concept and its intent, gift finders can be easily adapted to target any season, holiday, occasion and event. For e.g. Douglas concentrates on well wishes and helps to celebrate important milestones and special occasions.
In five steps, Douglas guides online shoppers through the decision-making process and towards shopping carts. The excentos gift finder uses recommender logic and a matching engine to generate accurate product recommendations. As these provide valid reasoning, it increases a shopper's willingness to pay, which leads to more conversions and establishes transparency. This in turn provides a wholesome interactive experience for shoppers and increases customer satisfaction.
---
myToys uses gift finders for other seasons and holidays:
myToys is a leading German retailer of children's toys and accessories and is one of the largest online shops in Germany. Their extremely large product assortment made it difficult for shoppers to buy a gift, especially those unaware of children's products and trends. The excentos guided selling tool solves this particular problem by allowing online shoppers to easily find the right products from such a big product assortment.
Along with the gender, the tool first takes into consideration the relationship between the person buying the gift and the person receiving it. This creates a unique layer of personalization by moving beyond traditional filter categories.
myToys has to present an assortment of 150,000 products. In order to maintain specificity, ages are evenly spread to give the shopper the option to choose every age, thereby avoiding any irrelevant overlap.
A shopper can then select the occasion or season providing a narrower filter for a gift that is perfect for it.
The last step is to choose an interest or theme, for e.g. a shopper can choose superheroes, if they know that the child is a fan of Batman. On the other hand, even if the shopper does not possess such information, the gift finder will still present you with gift recommendations.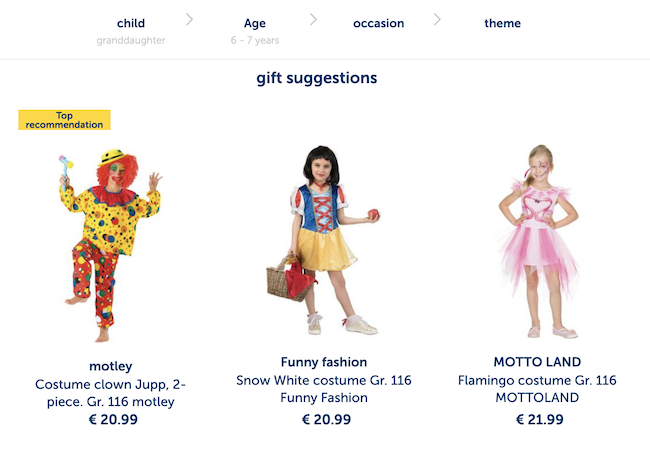 myToys Gift finder recommendation
Gift finders hence have several benefits for brands and retailers who wish to tackle the holiday seasons and any kind of a special occasion.
Helps with decision-making for the unsure shopper
Provides personalized recommendations based on customer insights
Saves the customer the anxiety of going through an exhaustive search process
Increases conversions during a highly competitive shopping period
Easily integrated across every device and touchpoint
At excentos, we are experts in guided selling solutions for ecommerce businesses.
---
Did you like it? Then share it!