VAUDE Case Study - Digital Advice in the Sports Industry
Watch now our ISPO presentation and find out how VAUDE profits from Digital Advice, Product Guides and chatbots.
Potsdam, 26. February 2019. Download the entire ISPO presentation as PDF or watch the video, if you want to see a perfect example of how Guided Selling technology can increase your revenue and conversion.
ISPO 2019 - Presentation of the VAUDE Case Study
Learn about the perks of Digital Advice in the Sports Industry. Presented by Dr. Ole Tangermann, CEO of excentos, and Manfred Meindl, head of VAUDE's international marketing and digital services department.
In short, this presentation covers:
win new customers by providing expert Digital Sales Advice
convert more leads with online tools, chatbots and voice-based commerce
improve and personalize the online shopping experience
increase brand exposure and customer loyalty
---
Download the Presentation
Take your time to read the presentation and download it now as a PDF. Or take a look into our references and find out how a Digital Advice can benefit your industry.
---
Do you want to know what excentos can do for your business?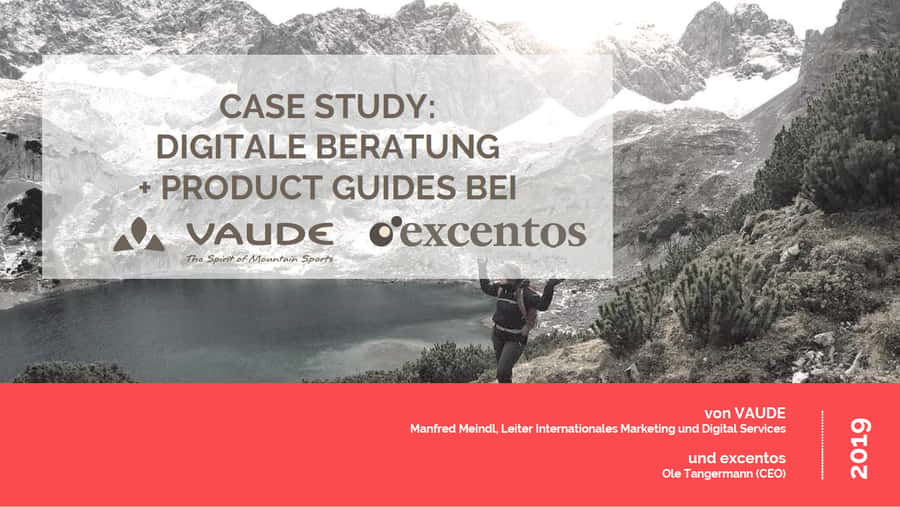 Click to download as PDF
---
Press Contact
Marko Kotur
excentos Software GmbH
Reiterweg 1
14469 Potsdam
Tel.: +49-331-730-768-43
Fax: +49-331-730-768-19
Email: [email protected]