Sunrise
---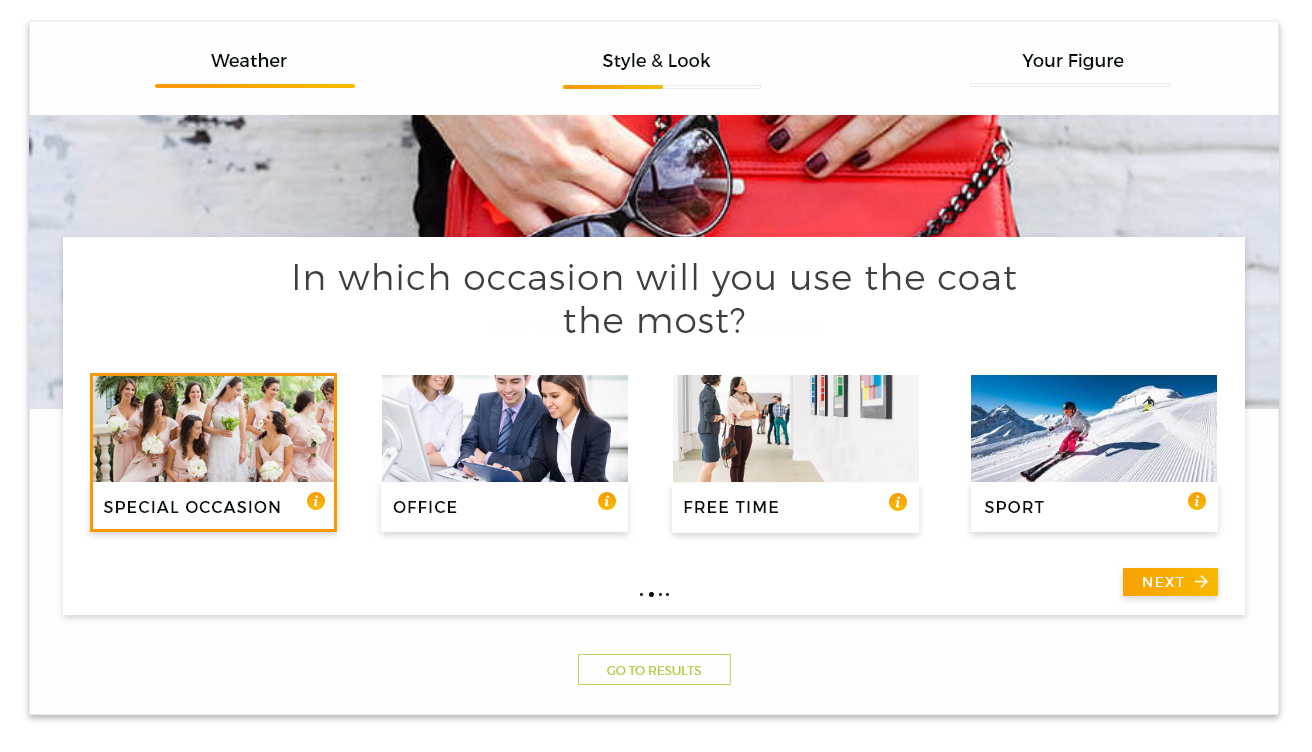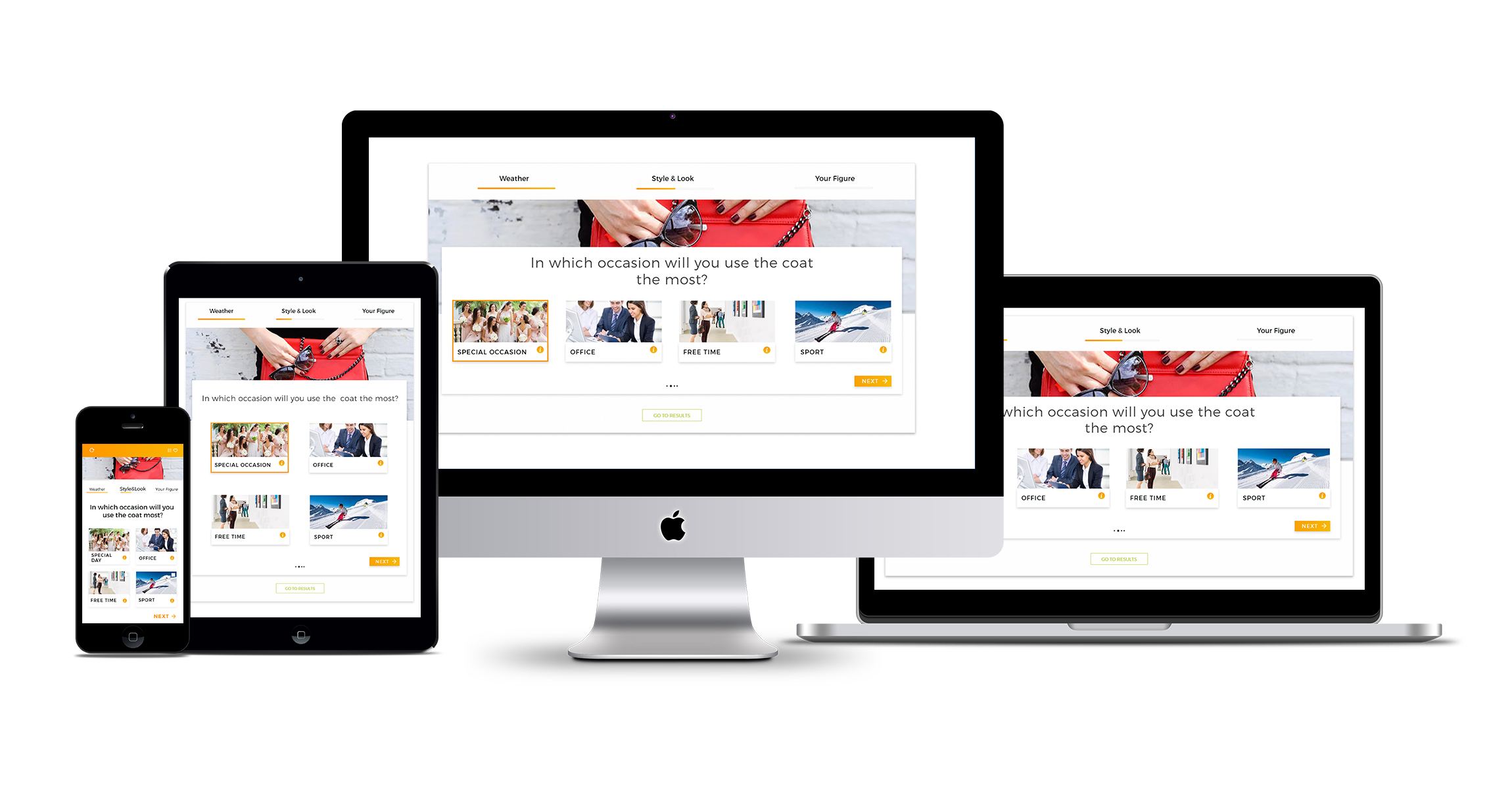 The Sunrise theme is thought and design to inspire and advise the user. Because of its light and smart look, it is suggested for fashion and acessories businesses.

It offers an overview of the stages, and it is ideal for Product Guides with a few stages (2 to 5), each containing between 1 to several questions.
Features & Best use
---
Recommended industries

Fashion, lifestyle, acessories, gifts

User's goal

Product inspiration and product advise

Supported widgets

Decoration images, sliders, dropdowns, multiselects, singleselects, search box

Number of stages

Supports: several
Suggested: 3 to 4

Questions per stage

Suggested: 3 to 5

Explanation content

Explanation content available via info icons. The explanation content contains only text

Cross Seeling

No

Recommendation Preview

No

Decoration Images

Yes. Stage decoration image as a top banner and decoration images for each answer option

*

Recommendations

Displayed at the end of the Product Guide, shows a Top Recommendation and in descending order other matching products

Product matching

Each recommendation displays an overview of the product, while matching product attributes and details are accessible by clicking on a info icon

*

Notes on use

Top minimum images width and height: 1250px / 294px
Suggested max. images size: 300 KB - the lower the fastest will the Product Guide load in your website
Suggested image width and heigth for answer options: 246px / 140px
We reccomend only using Stage Decoration images. If you decide to upload Question Decoration Images they will overwrite the Stage Decoration Image and replace it.
How will the content be displayed in this layout?Am I right here?
---
Here a mapping of the Product Guide as it will look when you choose the Sunrise theme.
Click on the plus sign to learn about how the concept built in Workbench is arranged in this design.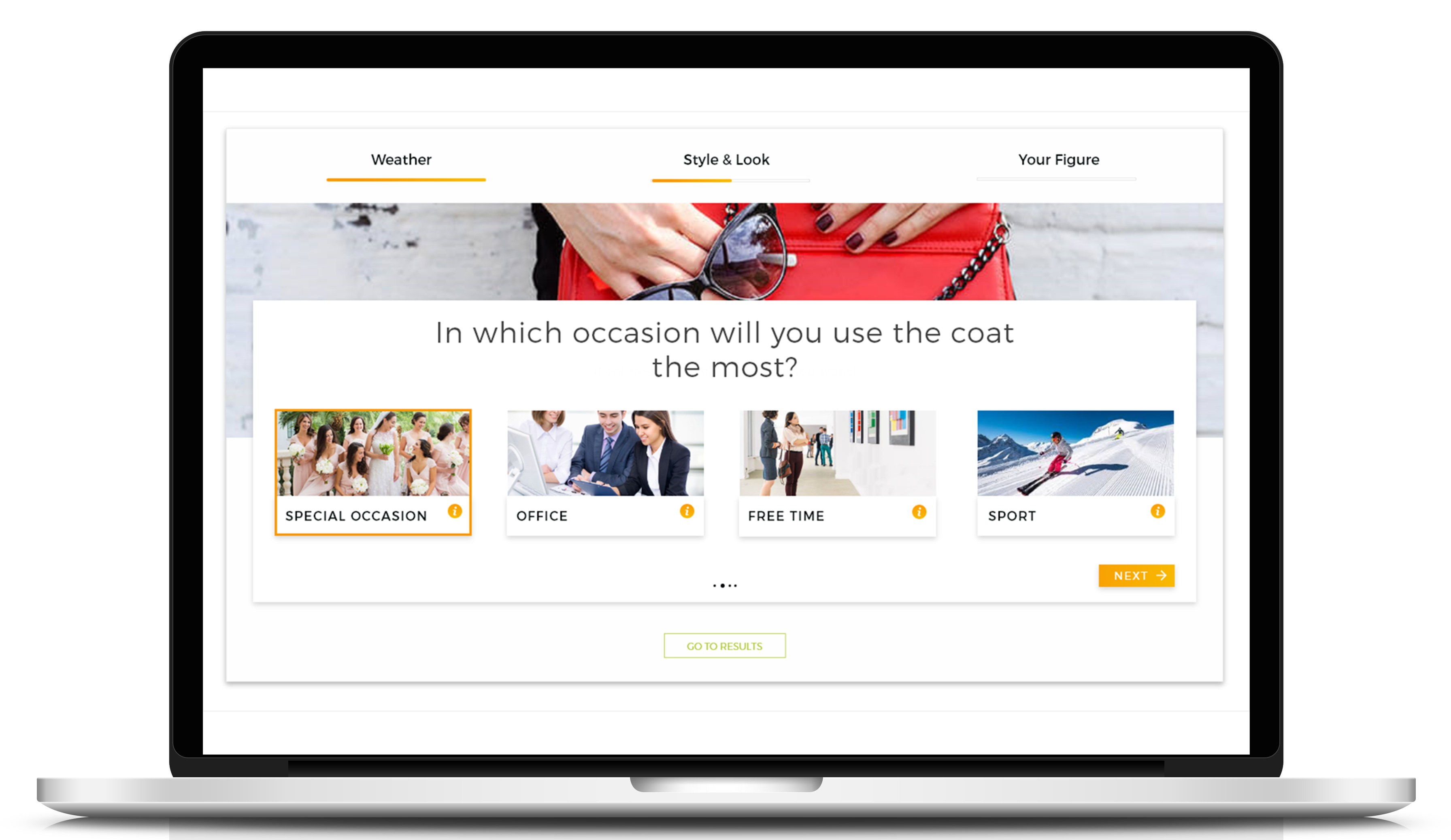 The Stage name

Each stage can contain one to several question. You can think about this as the "topic" of the questions displayed. hem

Info icon

This themes displays text Explanation content only, and only for answer options.
The explanation text is triggered by the user clicking on the info icon.

Decoration image of the Stage

Upload a Decoration Image in the Stage to see it displayed here. For best results we recommend a size of 1250px / 294px (width and height).

Decoration image of Answer Option

Upload a Decoration Image in the Answer to see it displayed here. For best results we recommend a size of 246px / 140px (width and height).